A few years back, when we noodled out the plans for our compact Charleston dream house, one thing was non-negotiable: I was going to have a hearth.
If it meant scrapping other amenities, like walls or closets, say, so be it. Childhood memories in an old Charleston home crackling and popping through winter months burned bright in my mind's eye.
At Christmas, my mother lavished great, draping swaths of garlands and fat, garnet colored Colonial Candles over the three fireplaces on our main floor. Mind you, those fires roared nightly by necessity. Even if our household budget had been permissive of large heating bills (and it wasn't), no thermostat could ever battle the drafts of walls and floors dating back to the 19th century.
A fireplace, after all, is to Charleston what a lanai is to Miami. Grand historic homes have long boasted ornate versions. Charleston cottages often featured the fireplace as its central feature, smartly situated between its two rooms with a single flue with an opening to each.
Hearth helper
Enamored with the notion of a comforting, uplifting hearth in uncertain times, I set out in search of a fireplace primer.
John Paul Huguley, founder of American College of Building Arts who runs a design-build company called Building Arts, informed me that a hearth refers to the place that's underneath the fire. In Charleston, it is often made of stone, with brick in front of it, and signifies the place where the embers land and produce heat.
"The hearth is really the heart, because it's not the visual architecture. It's the place that you gather around," Huguley said, adding how historically it served as the gathering spot to be warmed, the place to cook a meal, to engage in conversation.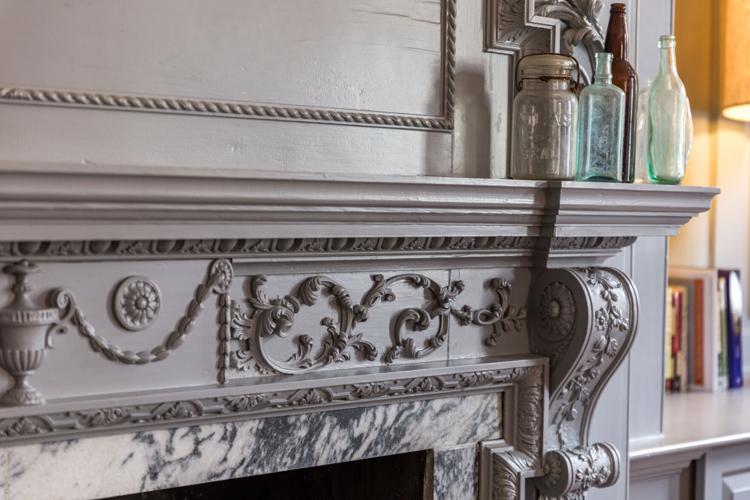 It exudes warmth and the smell of the fire, evoking the end of the day when everybody relaxes, he said. It is the base, the foundation upon which everything else is built.
And, yes, it can be embellished to stunning effect through the fireplace and components like the mantel surrounding it, tricked out with decorative arts by way of carving or gouging or composite materials allowing for details like dental molding. Huguley points to the fireplace at 95 Broad Street as an example of such decorative heights. 
That being said, a hearth can apply to any place offering a fire around which to congregate. It can be the simple fireplace with a single wood shelf to hold prized possessions. It can be outdoors in the form or a wood-burning stove or a fire pit. Most anyone can avail themselves of a hearth's comfort in these unsettling times.
A hearth is born
Huguley, incidentally, served up the soundest bit of advice back when I was scheming out my own fireplace with my sights set on scoring a salvage mantel. He counseled that I find the mantel before building the house, then design the fireplace opening to fit its dimensions.
I did, locating online a Georgian Irish pine marvel that could be shipped from Virginia. I topped it off with a massive, wobbly carved pier mirror plucked from a store in Chester. S.C., then reinforced and gilt-waxed its faded frame. Cobbling this dream hearth entailed hours upon hours of brain-draining internet searches and one near marriage-testing excursion with U-Haul and child in tow.
I regret nothing, particularly in light of a pandemic prompting all the more fireside idylls this winter. With that in mind, I also plan to make merry with that mantel for weeks to come, and to that end have enlisted some Charleston tastemakers to help me heighten my holiday hearth.
Shop in your china cabinet
Rhett Ramsay Outten, co-owner of Croghan's Jewel Box, points out that our own precious possessions are at the ready, lying in wait for their 15 minutes of holiday magic. "Think in terms of collections in your home or things you love," she said.
Silver is a natural, Outten said, while also recommending pottery or milk glass, or anything on hand. "Pile it in layers on the mantle. Arrange your candlesticks and baby cups and bud vases on top of greenery. If you collect silver bells or nut crackers, weave those in as well.
"Fill your cups and vases with your favorite florals and greens. Anything goes." said Outten, who is also a personal fan of paper whites, which by Christmas will be blooming and fragrant. There are also red and white roses.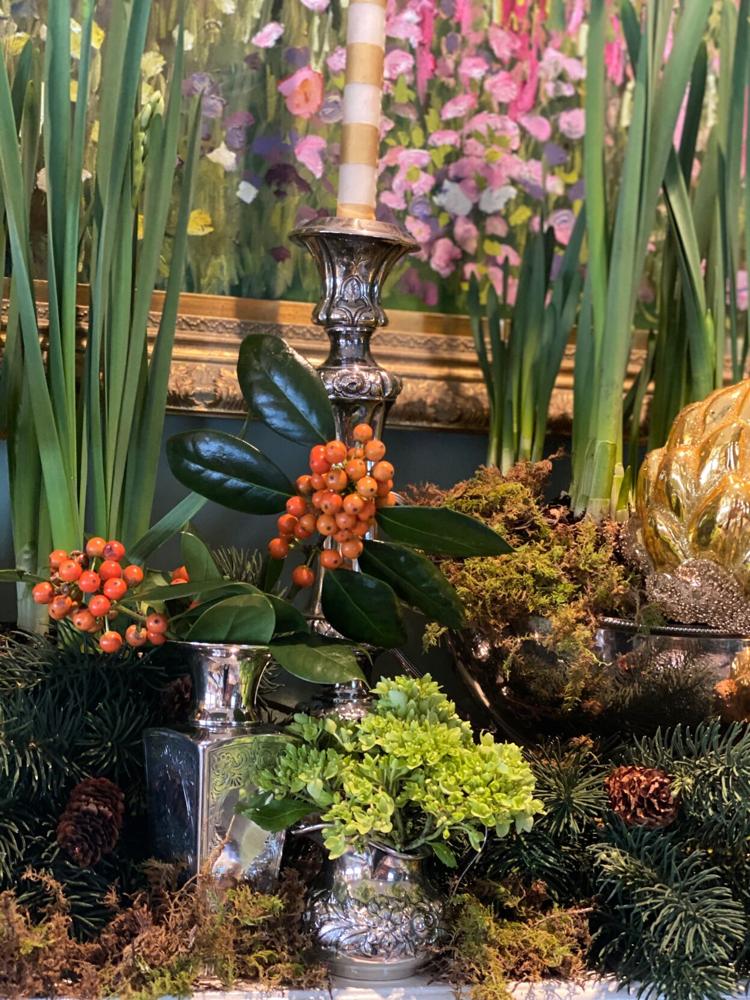 There are plants with singularly Charleston connections, too. Poinsettias, America's most popular Christmas plant, were discovered by Joel Roberts Poinsett, a Charleston native.
Others, too, are de rigueur in Charleston, like magnolia leaves and the popcorn plant, a Charleston favorite. "It looks beautiful spilling out of a sweetgrass basket collection. Tuck in votive candles to lend a warm glow," said Outten.
After all, as we face the coming months, and forever contemplate the stuff within our four walls, there has never been a more meaningful moment to embrace its signature features. Hearths of any kind offer a way to celebrate.
"The important thing for a hearth is to reflect on the things you love and make you joyful during the holiday season," said Outten.
Since his mother passed away, Huguley has placed her three white ceramic angels with a little bit of greenery and some red candles. "it's just special and you want to spotlight it," he said.
Achieving green peace
Thus inspired, I endeavored to elevate my own hard won mantel this year, with an eye on bringing the outdoors in with heaps of greenery.
I then decided it might be a good photo for this article. I then got nervous.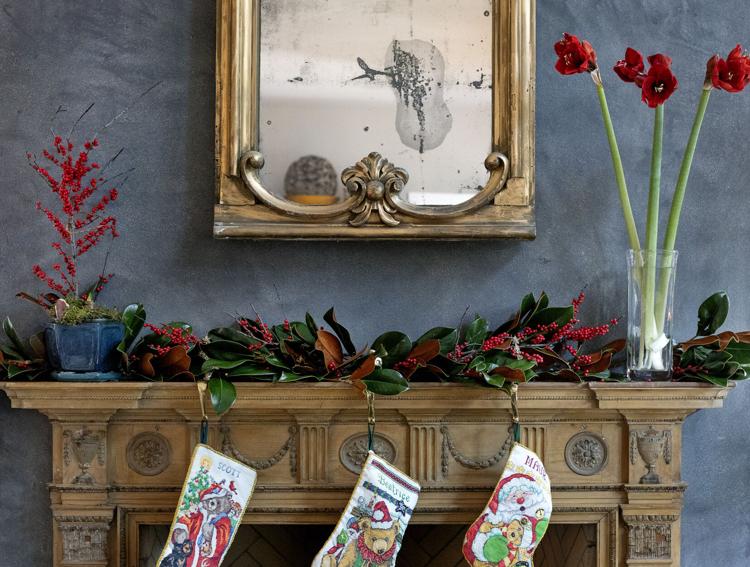 However, a quick visit to Lotus Flower to consult with co-owner Mary Silsby put me back on the beam. With trusty clippers in hand, Silsby guided me through the floral basics. Diving into vases, lugging loads of branches, producing winter berries, she offered tips on how to wrangle the wild into a hearth-warming seasonal scene.
First, she talked containers.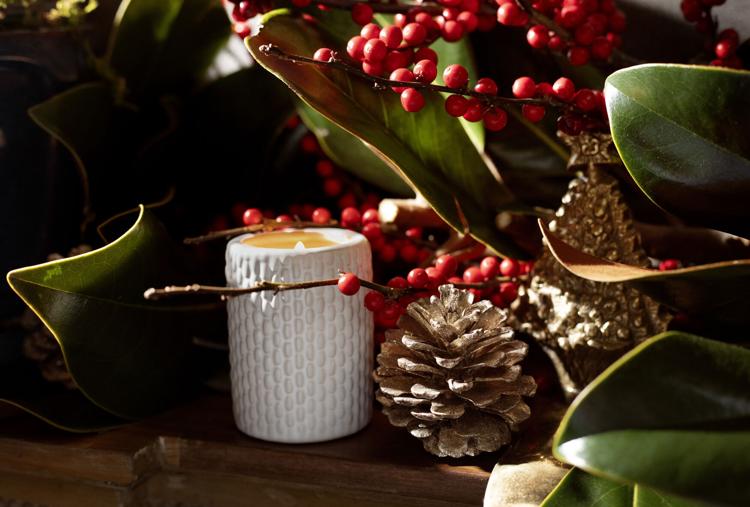 "Solid containers are better," she said, due to stems leeching elements that quickly discolor the water, though she did flag that it is important to remember to ensure the water is replenished as you won't see it disappear. Still, I had a Simon Pearce handblown vase burning a hole in my china cabinet and was intent on working that in.
She then advised to steer clear of traditional garlands, which often fall off mantels and prove challenging when adding other display items. For my mantel, we went with magnolia leaves, which are readily available in many yards. Spare branches from Christmas trees are another option.
"Layer the greens and put (them) around the vases," she said. "Pull off the leaves so they lay where you want them and don't cut them too much so they can lay on the mantel."
From there, we went with Ilex berry branches, cut in pieces and stuck around the leaves for a pop of red. A local alternative would be holly berries, which grow throughout Charleston.
"You can also use pyracantha, but you have to cut off the thorns. That's a nice rich red, too," Silsby said.
We then decided to flank it with red amaryllis. Three long stems were selected to be placed in my vase. For the other side, a bulb was topped off with an Ilex berry branch, which can then be used to prop the amaryllis when it grows too heavy to support itself and falls over. Silsby tied the branch with a bit of bark wire for use in that eventuality, and topped it all off with some moss.
From there, Silsby said to place other decorative items around them. She noted that the lack of socializing this year presents an ideal time to display fragile items that may not normally make the cut for fear of holiday party damage.
The finishing touch was a cherished trio of needlepoint stockings made by my mother-in-law.
While my holiday greens will soon fade, my hearth will abide.
Earlier, Huguley observed the fireplace's magnificent staying power. Over thousands of years its heat and its allure as a gathering spot, have endured. It still manages to capture the attention of adults and children alike, he said, wresting it from technology, becoming a favorite place for a bedtime story.
"The fire has always won out, right?"