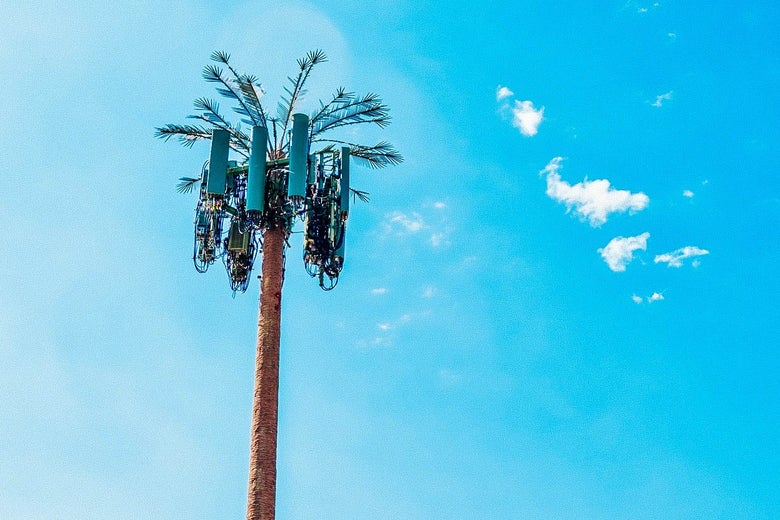 Slate has relationships with various online retailers.
If you buy something through our links,
Slate may earn an affiliate commission.
We update links when possible,
but note that deals can expire and all prices are subject to change.
All prices were up to date at the time of publication.
Excerpted from The 99% Invisible City: A Field Guide to the Hidden World of Everyday Design by Roman Mars and Kurt Kohlstedt. Copyright © 2020 by Roman Mars. Used by permission of Houghton Mifflin Harcourt. All rights reserved.
When engineers at Bell Labs first envisioned a modern wireless communications network in the 1940s, they imagined relay towers that would provide continuous coverage by passing calls from tower to tower as people moved between zones. As commercial cellular towers began to sprout up in the 1970s, diagrams depicting their coverage areas looked like blobby plant or animal cells pressed up against one another—hence the name cellphones. The engineers developing these systems and drawing these illustrations presumably never guessed that many of the actual towers in this network would later be designed to also mimic nature, disguised as various species of trees to make them more inconspicuous.
As mobile phones became more popular in the 1980s, more and more cellular network towers had to be built, most of which were relatively utilitarian and industrial-looking affairs. This naturally led to predictable NIMBY (not-in-my-backyard) criticisms from area residents who saw these additions as eyesores. Thus, an array of camouflage techniques emerged in parallel with this expanding technology, pioneered by companies like Larson Camouflage in Tucson, Arizona. This particular firm was well positioned to shift into a new industry; for years, the company had faked natural environments, building faux landscapes with artificial rocks and greenery for Disney parks as well as pseudo-wild settings for museum exhibits and zoos. Larson debuted its first faux tree towers in 1992, just a few years before the legal landscape around cell towers underwent a big shift.
The Telecommunications Act of 1996 restricted the ability of communities to regulate the placement of towers by telecom companies, which was frustrating to municipal governments. Unable to fully control or block construction outright, some areas responded with ordinances requiring new towers to be camouflaged. Suddenly, aesthetic subterfuge went from desirable to mandatory. Some new towers were hidden entirely out of sight inside of tall architectural elements, like the steeples of churches, while others were integrated with structures like water towers or flagpoles that were either extant or purpose-built to serve as part of the disguise. Still, there were many places where these kinds of obvious human artifacts would stand out, so the idea of cell towers looking like trees really began to take root.
In the decades that followed, business flourished for these camouflage companies as cellphone usage proliferated. Larson expanded its range of trees to blend into different regional environments. The single-pole cell tower is often called a monopole, so naturally, the first cell tower Larson disguised as a pine tree was called Mono-Pine. This was soon followed by Mono-Palms and Mono-Elms—they even made ones that look like saguaro cacti. Today, there are hundreds of thousands of cellular towers across the United States, many of which are camouflaged in some way by companies like Larson.
Some of these fakes are well disguised, but others stand out in part because of costs and other challenges. Camouflage can add more than $100,000 to cell tower construction prices, leading frugal clients to skimp on branches. Adding more branches costs more in itself but also adds more weight, necessitating a sturdier trunk and thus additional expense. Cell towers also have to reach high to function well, which can make them look awkward in groves of trees half their height. In the flat landscape of Las Vegas, some faux-palm towers can be seen from miles away. And, of course, seasonal change in many places can make these camouflaged towers stick out more. Faux pines may remain evergreen like their natural neighbors, but deciduous look-alikes become freakish oddities when the real trees around them shed their leaves.
In the end, some semicamouflaged towers can ironically wind up standing out more than bare-bones, functionalist steel ones would, falling into a kind of botanical "uncanny valley" between natural trees and utility poles. Camouflaging towers as trees is clever, but there is arguably something simple, honest, and clear-cut about more functionalist tower designs. Things don't have to look natural to be beautiful. But setting aesthetic judgments of functionalist industrial chic and ungainly faux greenery aside, it can be fun to keep an eye out for the fakes.
By Roman Mars and Kurt Kohlstedt
Future Tense
is a partnership of
Slate,
New America, and
Arizona State University
that examines emerging technologies, public policy, and society.
'));else {
if (!0 === d.b.getConfig("enableSendAllBids")) return;
p.native = {
title: (t = e.native).products[0].title,
body: t.products[0].description,
sponsoredBy: t.advertiser.description,
icon: t.advertiser.logo,
image: t.products[0].image,
clickUrl: t.products[0].click_url,
privacyLink: t.privacy.optout_click_url,
privacyIcon: t.privacy.optout_image_url,
cta: t.products[0].call_to_action,
price: t.products[0].price,
impressionTrackers: t.impression_pixels.map(function (t) {
return t.url;
})
}, p.mediaType = h.c;
}
} else e.video ? (p.vastUrl = e.displayurl, p.mediaType = h.d) : p.ad = e.creative;
c.push(p);
}), c;
},
onTimeout: function onTimeout(t) {
T() && Criteo.PubTag.Adapters.Prebid.GetAdapter(t.auctionId).handleBidTimeout();
},
onBidWon: function onBidWon(t) {
T() && Criteo.PubTag.Adapters.Prebid.GetAdapter(t.auctionId).handleBidWon(t);
},
onSetTargeting: function onSetTargeting(t) {
T() && Criteo.PubTag.Adapters.Prebid.GetAdapter(t.auctionId).handleSetTargeting(t);
}
};
function T() {
return "undefined" != typeof Criteo && Criteo.PubTag && Criteo.PubTag.Adapters && Criteo.PubTag.Adapters.Prebid;
}
function C(t) {
return f.deepAccess(t, "mediaTypes.banner.sizes") || t.sizes;
}
function A(t, e) {
return Array.isArray(t[0]) ? t.map(function (t) {
return e(t);
}) : [e(t)];
}
function S(t) {
return t[0] + "x" + t[1];
}
function I(t) {
return void 0 === t[0] && void 0 === t[1] ? "2x2" : t[0] + "x" + t[1];
}
function R(t) {
return void 0 !== f.deepAccess(t, "params.video") && void 0 !== f.deepAccess(t, "mediaTypes.video");
}
function x() {
try {
var t,
e,
r,
i,
o,
n = "criteo_fast_bid",
s = "// Hash: ",
a = y.getDataFromLocalStorage(n);
null !== a && (t = a.indexOf("n"), (e = a.substr(0, t).trim()).substr(0, s.length) !== s ? (f.logWarn("No hash found in FastBid"), y.removeDataFromLocalStorage(n)) : (r = e.substr(s.length), i = a.substr(t + 1), Object(p.verify)(i, r, g, b) ? (f.logInfo("Using Criteo FastBid"), (o = document.createElement("script")).type = "text/javascript", o.text = i, f.insertElement(o)) : (f.logWarn("Invalid Criteo FastBid found"), y.removeDataFromLocalStorage(n))));
} catch (t) {}
}
Object(i.registerBidder)(s);
},
382: function _(t, e, r) {
"use strict";
Object.defineProperty(e, "__esModule", {
value: !0
});
var a = r(383),
p = r(384);
e.verify = function (t, e, r, i) {
var o = new a.BigInteger(a.b64toHex(e)),
n = new a.BigInteger(a.b64toHex(r)),
s = o.modPowInt(i, n);
return a.removeExtraSymbols(s.toHexString()) === p.Sha256.hash(t);
};
},
383: function _(t, e, r) {
"use strict";
var i;
Object.defineProperty(e, "__esModule", {
value: !0
});
var o = (g.prototype.toHexString = function () {
if (this.s < 0) return "-" + this.negate().toHexString(); var t, e = !1, r = "", i = this.t, o = this.DB - i * this.DB % 4; if (0 < i--) for (o < this.DB && 0 < (t = this[i] >> o) && (e = !0, r = c(t)); 0 <= i;) { o < 4 ? (t = (this[i] & (1 << o) - 1) << 4 - o, t |= this[--i] >> (o += this.DB - 4)) : (t = this[i] >> (o -= 4) & 15, o <= 0 && (o += this.DB, --i)), 0 < t && (e = !0), e && (r += c(t)); } return e ? r : "0"; }, g.prototype.fromHexString = function (t) { if (null !== t) { this.t = 0, this.s = 0; for (var e = t.length, r = !1, i = 0; 0 <= --e;) { var o = p(t, e); o < 0 ? "-" == t.charAt(e) && (r = !0) : (r = !1, 0 == i ? this[this.t++] = o : i + 4 > this.DB ? (this[this.t - 1] |= (o & (1 << this.DB - i) - 1) << i, this[this.t++] = o >> this.DB - i) : this[this.t - 1] |= o << i, (i += 4) >= this.DB && (i -= this.DB));
}
this.clamp(), r && g.ZERO.subTo(this, this);
}
}, g.prototype.negate = function () {
var t = T();
return g.ZERO.subTo(this, t), t;
}, g.prototype.abs = function () {
return this.s < 0 ? this.negate() : this; }, g.prototype.mod = function (t) { var e = T(); return this.abs().divRemTo(t, null, e), this.s < 0 && 0 < e.compareTo(g.ZERO) && t.subTo(e, e), e; }, g.prototype.copyTo = function (t) { for (var e = this.t - 1; 0 <= e; --e) { t[e] = this[e]; } t.t = this.t, t.s = this.s; }, g.prototype.lShiftTo = function (t, e) { for (var r = t % this.DB, i = this.DB - r, o = (1 << i) - 1, n = Math.floor(t / this.DB), s = this.s << r & this.DM, a = this.t - 1; 0 <= a; --a) { e[a + n + 1] = this[a] >> i | s, s = (this[a] & o) << r; } for (a = n - 1; 0 <= a; --a) { e[a] = 0; } e[n] = s, e.t = this.t + n + 1, e.s = this.s, e.clamp(); }, g.prototype.invDigit = function () { if (this.t < 1) return 0; var t = this[0]; if (0 == (1 & t)) return 0; var e = 3 & t; return 0 < (e = (e = (e = (e = e * (2 - (15 & t) * e) & 15) * (2 - (255 & t) * e) & 255) * (2 - ((65535 & t) * e & 65535)) & 65535) * (2 - t * e % this.DV) % this.DV) ? this.DV - e : -e; }, g.prototype.dlShiftTo = function (t, e) { for (var r = this.t - 1; 0 <= r; --r) { e[r + t] = this[r]; } for (r = t - 1; 0 <= r; --r) { e[r] = 0; } e.t = this.t + t, e.s = this.s; }, g.prototype.squareTo = function (t) { for (var e = this.abs(), r = t.t = 2 * e.t; 0 <= --r;) { t[r] = 0; } for (r = 0; r < e.t - 1; ++r) { var i = e.am(r, e[r], t, 2 * r, 0, 1); (t[r + e.t] += e.am(r + 1, 2 * e[r], t, 2 * r + 1, i, e.t - r - 1)) >= e.DV && (t[r + e.t] -= e.DV, t[r + e.t + 1] = 1);
}
0 < t.t && (t[t.t - 1] += e.am(r, e[r], t, 2 * r, 0, 1)), t.s = 0, t.clamp(); }, g.prototype.multiplyTo = function (t, e) { var r = this.abs(), i = t.abs(), o = r.t; for (e.t = o + i.t; 0 <= --o;) { e[o] = 0; } for (o = 0; o < i.t; ++o) { e[o + r.t] = r.am(0, i[o], e, o, 0, r.t); } e.s = 0, e.clamp(), this.s != t.s && g.ZERO.subTo(e, e); }, g.prototype.divRemTo = function (t, e, r) { var i = t.abs(); if (!(i.t <= 0)) { var o = this.abs(); if (o.t < i.t) return null != e && e.fromHexString("0"), void (null != r && this.copyTo(r)); null == r && (r = T()); var n = T(), s = this.s, a = t.s, p = this.DB - C(i[i.t - 1]); 0 < p ? (i.lShiftTo(p, n), o.lShiftTo(p, r)) : (i.copyTo(n), o.copyTo(r)); var u = n.t, c = n[u - 1]; if (0 != c) { var d = c * (1 << this.F1) + (1 < u ? n[u - 2] >> this.F2 : 0),
h = this.FV / d,
f = (1 << this.F1) / d, l = 1 << this.F2, m = r.t, v = m - u, y = null == e ? T() : e; for (n.dlShiftTo(v, y), 0 <= r.compareTo(y) && (r[r.t++] = 1, r.subTo(y, r)), g.ONE.dlShiftTo(u, y), y.subTo(n, n); n.t < u;) { n[n.t++] = 0; } for (; 0 <= --v;) { var b = r[--m] == c ? this.DM : Math.floor(r[m] * h + (r[m - 1] + l) * f); if ((r[m] += n.am(0, b, r, v, 0, u)) < b) for (n.dlShiftTo(v, y), r.subTo(y, r); r[m] < --b;) { r.subTo(y, r); } } null != e && (r.drShiftTo(u, e), s != a && g.ZERO.subTo(e, e)), r.t = u, r.clamp(), 0 < p && r.rShiftTo(p, r), s < 0 && g.ZERO.subTo(r, r); } } }, g.prototype.rShiftTo = function (t, e) { e.s = this.s; var r = Math.floor(t / this.DB); if (r >= this.t) e.t = 0;else {
var i = t % this.DB,
o = this.DB - i,
n = (1 << i) - 1; e[0] = this[r] >> i;
for (var s = r + 1; s < this.t; ++s) { e[s - r - 1] |= (this[s] & n) << o, e[s - r] = this[s] >> i;
}
0 < i && (e[this.t - r - 1] |= (this.s & n) << o), e.t = this.t - r, e.clamp(); } }, g.prototype.drShiftTo = function (t, e) { for (var r = t; r < this.t; ++r) { e[r - t] = this[r]; } e.t = Math.max(this.t - t, 0), e.s = this.s; }, g.prototype.subTo = function (t, e) { for (var r = 0, i = 0, o = Math.min(t.t, this.t); r < o;) { i += this[r] - t[r], e[r++] = i & this.DM, i >>= this.DB;
}
if (t.t < this.t) { for (i -= t.s; r < this.t;) { i += this[r], e[r++] = i & this.DM, i >>= this.DB;
}
i += this.s;
} else {
for (i += this.s; r < t.t;) { i -= t[r], e[r++] = i & this.DM, i >>= this.DB;
}
i -= t.s;
}
e.s = i < 0 ? -1 : 0, i < -1 ? e[r++] = this.DV + i : 0 < i && (e[r++] = i), e.t = r, e.clamp(); }, g.prototype.clamp = function () { for (var t = this.s & this.DM; 0 < this.t && this[this.t - 1] == t;) { --this.t; } }, g.prototype.modPowInt = function (t, e) { var r = new (t < 256 || e.isEven() ? d : f)(e); return this.exp(t, r); }, g.prototype.exp = function (t, e) { if (4294967295 < t || t < 1) return g.ONE; var r, i = T(), o = T(), n = e.convert(this), s = C(t) - 1; for (n.copyTo(i); 0 <= --s;) { e.sqrTo(i, o), 0 < (t & 1 << s) ? e.mulTo(o, n, i) : (r = i, i = o, o = r); } return e.revert(i); }, g.prototype.isEven = function () { return 0 == (0 < this.t ? 1 & this[0] : this.s); }, g.prototype.compareTo = function (t) { var e = this.s - t.s; if (0 != e) return e; var r = this.t; if (0 != (e = r - t.t)) return this.s < 0 ? -e : e; for (; 0 <= --r;) { if (0 != (e = this[r] - t[r])) return e; } return 0; }, g.prototype.am1 = function (t, e, r, i, o, n) { for (; 0 <= --n;) { var s = e * this[t++] + r[i] + o; o = Math.floor(s / 67108864), r[i++] = 67108863 & s; } return o; }, g.prototype.am2 = function (t, e, r, i, o, n) { for (var s = 32767 & e, a = e >> 15; 0 <= --n;) { var p = 32767 & this[t], u = this[t++] >> 15,
c = a * p + u * s;
o = ((p = s * p + ((32767 & c) << 15) + r[i] + (1073741823 & o)) >>> 30) + (c >>> 15) + a * u + (o >>> 30), r[i++] = 1073741823 & p;
}
return o;
}, g.prototype.am3 = function (t, e, r, i, o, n) {
for (var s = 16383 & e, a = e >> 14; 0 <= --n;) { var p = 16383 & this[t], u = this[t++] >> 14,
c = a * p + u * s;
o = ((p = s * p + ((16383 & c) << 14) + r[i] + o) >> 28) + (c >> 14) + a * u, r[i++] = 268435455 & p;
}
return o;
}, g);
function g(t) {
null !== t && this.fromHexString(t);
}
function T() {
return new o(null);
}
function C(t) {
var e,
r = 1;
return 0 != (e = t >>> 16) && (t = e, r += 16), 0 != (e = t >> 8) && (t = e, r += 8), 0 != (e = t >> 4) && (t = e, r += 4), 0 != (e = t >> 2) && (t = e, r += 2), 0 != (e = t >> 1) && (t = e, r += 1), r;
}
e.BigInteger = o, e.nbi = T, e.nbits = C;
for (var n = [], s = "0".charCodeAt(0), a = 0; a <= 9; ++a) { n[s++] = a; } for (s = "a".charCodeAt(0), a = 10; a < 36; ++a) { n[s++] = a; } for (s = "A".charCodeAt(0), a = 10; a < 36; ++a) { n[s++] = a; } function p(t, e) { var r = n[t.charCodeAt(e)]; return null == r ? -1 : r; } e.intAt = p; var u = "0123456789abcdefghijklmnopqrstuvwxyz"; function c(t) { return u.charAt(t); } e.int2char = c; e.b64toHex = function (t) { for (var e = "", r = 0, i = 0, o = 0; o < t.length && "=" != t.charAt(o); ++o) { var n = "ABCDEFGHIJKLMNOPQRSTUVWXYZabcdefghijklmnopqrstuvwxyz0123456789+/".indexOf(t.charAt(o)); n < 0 || (r = 0 == r ? (e += c(n >> 2), i = 3 & n, 1) : 1 == r ? (e += c(i << 2 | n >> 4), i = 15 & n, 2) : 2 == r ? (e += c(i), e += c(n >> 2), i = 3 & n, 3) : (e += c(i << 2 | n >> 4), e += c(15 & n), 0));
}
return 1 == r && (e += c(i << 2)), e; }, e.removeExtraSymbols = function (t) { return t.replace(/^1f+00/, "").replace("3031300d060960864801650304020105000420"https://r.search.yahoo.com/,""); }; var d = (h.prototype.convert = function (t) { return t.s < 0 || 0 <= t.compareTo(this.m) ? t.mod(this.m) : t; }, h.prototype.revert = function (t) { return t; }, h.prototype.reduce = function (t) { t.divRemTo(this.m, null, t); }, h.prototype.mulTo = function (t, e, r) { t.multiplyTo(e, r), this.reduce(r); }, h.prototype.sqrTo = function (t, e) { t.squareTo(e), this.reduce(e); }, h); function h(t) { this.m = t; } var f = (l.prototype.convert = function (t) { var e = T(); return t.abs().dlShiftTo(this.m.t, e), e.divRemTo(this.m, null, e), t.s < 0 && 0 < e.compareTo(o.ZERO) && this.m.subTo(e, e), e; }, l.prototype.revert = function (t) { var e = T(); return t.copyTo(e), this.reduce(e), e; }, l.prototype.reduce = function (t) { for (; t.t <= this.mt2;) { t[t.t++] = 0; } for (var e = 0; e < this.m.t; ++e) { var r = 32767 & t[e], i = r * this.mpl + ((r * this.mph + (t[e] >> 15) * this.mpl & this.um) << 15) & t.DM; for (t[r = e + this.m.t] += this.m.am(0, i, t, e, 0, this.m.t); t[r] >= t.DV;) {
t[r] -= t.DV, t[++r]++;
}
}
t.clamp(), t.drShiftTo(this.m.t, t), 0 <= t.compareTo(this.m) && t.subTo(this.m, t); }, l.prototype.mulTo = function (t, e, r) { t.multiplyTo(e, r), this.reduce(r); }, l.prototype.sqrTo = function (t, e) { t.squareTo(e), this.reduce(e); }, l); function l(t) { this.m = t, this.mp = t.invDigit(), this.mpl = 32767 & this.mp, this.mph = this.mp >> 15, this.um = (1 << t.DB - 15) - 1, this.mt2 = 2 * t.t; } function m(t) { var e = T(); return e.fromHexString(t.toString()), e; } e.nbv = m, o.ZERO = m(0), o.ONE = m(1), i = "Microsoft Internet Explorer" == navigator.appName ? (o.prototype.am = o.prototype.am2, 30) : "Netscape" != navigator.appName ? (o.prototype.am = o.prototype.am1, 26) : (o.prototype.am = o.prototype.am3, 28), o.prototype.DB = i, o.prototype.DM = (1 << i) - 1, o.prototype.DV = 1 << i; o.prototype.FV = Math.pow(2, 52), o.prototype.F1 = 52 - i, o.prototype.F2 = 2 * i - 52; }, 384: function _(t, e, r) { "use strict"; Object.defineProperty(e, "__esModule", { value: !0 }); var i = (S.hash = function (t) { t = S.utf8Encode(t || ""); for (var e = [1116352408, 1899447441, 3049323471, 3921009573, 961987163, 1508970993, 2453635748, 2870763221, 3624381080, 310598401, 607225278, 1426881987, 1925078388, 2162078206, 2614888103, 3248222580, 3835390401, 4022224774, 264347078, 604807628, 770255983, 1249150122, 1555081692, 1996064986, 2554220882, 2821834349, 2952996808, 3210313671, 3336571891, 3584528711, 113926993, 338241895, 666307205, 773529912, 1294757372, 1396182291, 1695183700, 1986661051, 2177026350, 2456956037, 2730485921, 2820302411, 3259730800, 3345764771, 3516065817, 3600352804, 4094571909, 275423344, 430227734, 506948616, 659060556, 883997877, 958139571, 1322822218, 1537002063, 1747873779, 1955562222, 2024104815, 2227730452, 2361852424, 2428436474, 2756734187, 3204031479, 3329325298], r = [1779033703, 3144134277, 1013904242, 2773480762, 1359893119, 2600822924, 528734635, 1541459225], i = (t += String.fromCharCode(128)).length / 4 + 2, o = Math.ceil(i / 16), n = new Array(o), s = 0; s < o; s++) { n[s] = new Array(16); for (var a = 0; a < 16; a++) { n[s][a] = t.charCodeAt(64 * s + 4 * a) << 24 | t.charCodeAt(64 * s + 4 * a + 1) << 16 | t.charCodeAt(64 * s + 4 * a + 2) << 8 | t.charCodeAt(64 * s + 4 * a + 3) << 0; } } var p = 8 * (t.length - 1) / Math.pow(2, 32), u = 8 * (t.length - 1) >>> 0;
for (n[o - 1][14] = Math.floor(p), n[o - 1][15] = u, s = 0; s < o; s++) { for (var c = new Array(64), d = 0; d < 16; d++) { c[d] = n[s][d]; } for (d = 16; d < 64; d++) { c[d] = S.q1(c[d - 2]) + c[d - 7] + S.q0(c[d - 15]) + c[d - 16] >>> 0;
}
for (var h = r[0], f = r[1], l = r[2], m = r[3], v = r[4], y = r[5], b = r[6], g = r[7], d = 0; d < 64; d++) { var T = g + S.z1(v) + S.Ch(v, y, b) + e[d] + c[d], C = S.z0(h) + S.Maj(h, f, l); g = b, b = y, y = v, v = m + T >>> 0, m = l, l = f, f = h, h = T + C >>> 0;
}
r[0] = r[0] + h >>> 0, r[1] = r[1] + f >>> 0, r[2] = r[2] + l >>> 0, r[3] = r[3] + m >>> 0, r[4] = r[4] + v >>> 0, r[5] = r[5] + y >>> 0, r[6] = r[6] + b >>> 0, r[7] = r[7] + g >>> 0;
}
for (var A = new Array(r.length), g = 0; g < r.length; g++) { A[g] = ("00000000" + r[g].toString(16)).slice(-8); } return A.join(""); }, S.utf8Encode = function (e) { try { return new TextEncoder().encode(e).reduce(function (t, e) { return t + String.fromCharCode(e); }, ""); } catch (t) { return unescape(encodeURIComponent(e)); } }, S.ROTR = function (t, e) { return e >>> t | e << 32 - t; }, S.z0 = function (t) { return S.ROTR(2, t) ^ S.ROTR(13, t) ^ S.ROTR(22, t); }, S.z1 = function (t) { return S.ROTR(6, t) ^ S.ROTR(11, t) ^ S.ROTR(25, t); }, S.q0 = function (t) { return S.ROTR(7, t) ^ S.ROTR(18, t) ^ t >>> 3;
}, S.q1 = function (t) {
return S.ROTR(17, t) ^ S.ROTR(19, t) ^ t >>> 10;
}, S.Ch = function (t, e, r) {
return t & e ^ ~t & r;
}, S.Maj = function (t, e, r) {
return t & e ^ t & r ^ e & r;
}, S);
function S() {}
e.Sha256 = i;
}
}, [380]);
pbjsChunk([187], {
481: function _(e, r, t) {
e.exports = t(482);
},
482: function _(e, r, t) {
"use strict";
Object.defineProperty(r, "__esModule", {
value: !0
}), t.d(r, "spec", function () {
return m;
});
var b = t(0),
y = t(2),
h = t(3),
i = t(11),
l = t.n(i),
a = t(483),
n = t.n(a),
s = t(1);
function v(e) {
return (v = "function" == typeof Symbol && "symbol" == _typeof(Symbol.iterator) ? function (e) {
return _typeof(e);
} : function (e) {
return e && "function" == typeof Symbol && e.constructor === Symbol && e !== Symbol.prototype ? "symbol" : _typeof(e);
})(e);
}
var o = [y.b, y.d],
g = 100,
w = 300,
x = 3600,
I = !0,
P = {
JPY: 1
};
function p(e) {
var r = {};
return r.id = e.bidId, r.ext = {}, r.ext.siteID = e.params.siteId, !e.params.hasOwnProperty("id") || "string" != typeof e.params.id && "number" != typeof e.params.id ? r.ext.sid = "".concat(e.params.size[0], "x").concat(e.params.size[1]) : r.ext.sid = String(e.params.id), e.params.hasOwnProperty("bidFloor") && e.params.hasOwnProperty("bidFloorCur") && (r.bidfloor = e.params.bidFloor, r.bidfloorcur = e.params.bidFloorCur), r;
}
function d(e) {
return Array.isArray(e) && 2 === e.length && n()(e[0]) && n()(e[1]);
}
function c(e, r) {
if (d(e)) return e[0] === r[0] && e[1] === r[1];
for (var t = 0; t < e.length; t++) { if (e[t][0] === r[0] && e[t][1] === r[1]) return 1; } } function u(e, r, t, i) { var a = []; if (window.headertag && "function" == typeof window.headertag.getIdentityInfo) { var n, s = window.headertag.getIdentityInfo(); if (s && "object" === v(s)) for (var o in s) { !s.hasOwnProperty(o) || !(n = s[o]).responsePending && n.data && "object" === v(n.data) && Object.keys(n.data).length && a.push(n.data); } } var d, p = {}; p.id = e[0].bidderRequestId, p.imp = t, p.site = {}, p.ext = {}, p.ext.source = "prebid", e[0].schain && (p.source = { ext: { schain: e[0].schain } }), 0 < a.length && (p.user = {}, p.user.eids = a), document.referrer && "" !== document.referrer && (p.site.ref = document.referrer), r && (r.gdprConsent && ((d = r.gdprConsent).hasOwnProperty("gdprApplies") && (p.regs = { ext: { gdpr: d.gdprApplies ? 1 : 0 } }), d.hasOwnProperty("consentString") && (p.user = p.user || {}, p.user.ext = { consent: d.consentString || "" })), r.uspConsent && b.deepSetValue(p, "regs.ext.us_privacy", r.uspConsent), r.refererInfo && (p.site.page = r.refererInfo.referer)); var c = {}, u = r && r.bidderCode || "ix", m = h.b.getConfig(u); if (m) { if ("object" === v(m.firstPartyData)) { var f = m.firstPartyData, y = "?"; for (var l in f) { f.hasOwnProperty(l) && (y += "".concat(encodeURIComponent(l), "=").concat(encodeURIComponent(f[l]), "&")); } y = y.slice(0, -1), p.site.page += y; } "number" == typeof m.timeout && (c.t = m.timeout); } return c.s = e[0].params.siteId, c.v = i, c.r = JSON.stringify(p), c.ac = "j", c.sd = 1, 8.1 === i && (c.nf = 1), { method: "GET", url: "https://as-sec.casalemedia.com/cygnus", data: c }; } var m = { code: "ix", gvlid: 10, supportedMediaTypes: o, isBidRequestValid: function isBidRequestValid(e) { if (!d(e.params.size)) return b.logError("ix bidder params: bid size has invalid format."), !1; if (!c(e.sizes, e.params.size)) return b.logError("ix bidder params: bid size is not included in ad unit sizes."), !1; if (e.hasOwnProperty("mediaType") && !b.contains(o, e.mediaType)) return !1; if (e.hasOwnProperty("mediaTypes") && !b.deepAccess(e, "mediaTypes.banner.sizes") && !b.deepAccess(e, "mediaTypes.video.playerSize")) return !1; if ("string" != typeof e.params.siteId && "number" != typeof e.params.siteId) return b.logError("ix bidder params: siteId must be string or number value."), !1; var r, t, i = e.params.hasOwnProperty("bidFloor"), a = e.params.hasOwnProperty("bidFloorCur"); return !!(!i && !a || i && a && (r = e.params.bidFloor, t = e.params.bidFloorCur, Boolean("number" == typeof r && "string" == typeof t && t.match(/^[A-Z]{3}$/)))) || (b.logError("ix bidder params: bidFloor / bidFloorCur parameter has invalid format."), !1); }, buildRequests: function buildRequests(e, r) { for (var t, i, a = [], n = [], s = [], o = null, d = 0; d < e.length; d++) { (o = e[d]).mediaType !== y.d && !b.deepAccess(o, "mediaTypes.video") || (o.mediaType === y.d || c(o.mediaTypes.video.playerSize, o.params.size) ? s.push(function (e) { var r = p(e); r.video = b.deepClone(e.params.video), r.video.w = e.params.size[0], r.video.h = e.params.size[1]; var t = b.deepAccess(e, "mediaTypes.video.context"); return t && ("instream" === t ? r.video.placement = 1 : "outstream" === t ? r.video.placement = 4 : b.logWarn("ix bidder params: video context '".concat(t, "' is not supported"))), r; }(o)) : b.logError("Bid size is not included in video playerSize")), o.mediaType !== y.b && !b.deepAccess(o, "mediaTypes.banner") && (o.mediaType || o.mediaTypes) || n.push((i = void 0, (i = p(t = o)).banner = {}, i.banner.w = t.params.size[0], i.banner.h = t.params.size[1], i.banner.topframe = b.inIframe() ? 0 : 1, i)); } return 0 < n.length && a.push(u(e, r, n, 7.2)), 0 < s.length && a.push(u(e, r, s, 8.1)), a; }, interpretResponse: function interpretResponse(e, r) { var t = []; if (!e.hasOwnProperty("body") || !e.body.hasOwnProperty("seatbid")) return t; for (var i, a, n, s, o = e.body, d = o.seatbid, p = 0; p < d.length; p++) { if (d[p].hasOwnProperty("bid")) for (var c = d[p].bid, u = JSON.parse(r.data.r), m = 0; m < c.length; m++) { var f = function (r, e) { if (r) return l()(e, function (e) { return e.id === r; }); }(c[m].impid, u.imp); i = c[m], a = o.cur, n = f, s = void 0, s = {}, P.hasOwnProperty(a) ? s.cpm = i.price / P[a] : s.cpm = i.price / g, s.requestId = i.impid, s.dealId = b.deepAccess(i, "ext.dealid"), s.netRevenue = I, s.currency = a, s.creativeId = i.hasOwnProperty("crid") ? i.crid : "-", b.deepAccess(i, "ext.vasturl") ? (s.vastUrl = i.ext.vasturl, s.width = n.video.w, s.height = n.video.h, s.mediaType = y.d, s.ttl = x) : (s.ad = i.adm, s.width = i.w, s.height = i.h, s.mediaType = y.b, s.ttl = w), s.meta = {}, s.meta.networkId = b.deepAccess(i, "ext.dspid"), s.meta.brandId = b.deepAccess(i, "ext.advbrandid"), s.meta.brandName = b.deepAccess(i, "ext.advbrand"), t.push(s); } } return t; }, transformBidParams: function transformBidParams(e) { return b.convertTypes({ siteID: "number" }, e); }, getUserSyncs: function getUserSyncs(e) { return e.iframeEnabled ? [{ type: "iframe", url: "https://js-sec.indexww.com/um/ixmatch.html" }] : []; } }; Object(s.registerBidder)(m); } }, [481]); pbjsChunk([184], { 493: function _(e, t, r) { e.exports = r(494); }, 494: function _(e, t, r) { "use strict"; Object.defineProperty(t, "__esModule", { value: !0 }), r.d(t, "spec", function () { return l; }); var s = r(0), d = r(3), n = r(1), a = r(9); function g() { return (g = Object.assign || function (e) { for (var t = 1; t < arguments.length; t++) { var r = arguments[t]; for (var n in r) { Object.prototype.hasOwnProperty.call(r, n) && (e[n] = r[n]); } } return e; }).apply(this, arguments); } var o, i, c, u = Object(a.b)(), l = { code: "kargo", isBidRequestValid: function isBidRequestValid(e) { return !(!e || !e.params) && !!e.params.placementId; }, buildRequests: function buildRequests(e, t) { var r, n = d.b.getConfig("currency"), a = n && n.adServerCurrency || "USD", o = {}, i = {}; s._each(e, function (e) { o[e.bidId] = e.params.placementId, i[e.bidId] = e.sizes; }), 0 < e.length && e[0].userId && e[0].userId.tdid && (r = e[0].userId.tdid); var c = g({}, { sessionId: l._getSessionId(), requestCount: l._getRequestCount(), timeout: t.timeout, currency: a, cpmGranularity: 1, timestamp: new Date().getTime(), cpmRange: { floor: 0, ceil: 20 }, bidIDs: o, bidSizes: i, prebidRawBidRequests: e }, l._getAllMetadata(r, t.uspConsent)), u = encodeURIComponent(JSON.stringify(c)); return g({}, t, { method: "GET", url: "".concat("https://krk.kargo.com"https://r.search.yahoo.com/,"/api/v2/bid"), data: "json=".concat(u), currency: a }); }, interpretResponse: function interpretResponse(e, t) { var r = e.body, n = []; for (var a in r) { var o = r[a], i = void 0; o.metadata && o.metadata.landingPageDomain && (i = { clickUrl: o.metadata.landingPageDomain }), n.push({ requestId: a, cpm: Number(o.cpm), width: o.width, height: o.height, ad: o.adm, ttl: 300, creativeId: o.id, dealId: o.targetingCustom, netRevenue: !0, currency: t.currency, meta: i }); } return n; }, getUserSyncs: function getUserSyncs(e) { var t = [], r = l._generateRandomUuid(), n = l._getClientId(); if (e.iframeEnabled && r && n) for (var a = 0; a < 5; a++) { t.push({ type: "iframe", url: "https://crb.kargo.com/api/v1/initsyncrnd/{UUID}?seed={SEED}&idx={INDEX}".replace("{UUID}", n).replace("{SEED}", r).replace("{INDEX}", a) }); } return t; }, _readCookie: function _readCookie(e) { if (!u.cookiesAreEnabled()) return null; for (var t = "".concat(e, "="), r = document.cookie.split(";"), n = 0; n < r.length; n++) { for (var a = r[n]; " " === a.charAt(0);) { a = a.substring(1, a.length); } if (0 === a.indexOf(t)) return a.substring(t.length, a.length); } return null; }, _getCrbFromCookie: function _getCrbFromCookie() { try { var e = JSON.parse(decodeURIComponent(l._readCookie("krg_crb"))); if (e && e.v) { var t = JSON.parse(atob(e.v)); if (t) return t; } return {}; } catch (e) { return {}; } }, _getCrbFromLocalStorage: function _getCrbFromLocalStorage() { try { return JSON.parse(atob(l._getLocalStorageSafely("krg_crb"))); } catch (e) { return {}; } }, _getCrb: function _getCrb() { var e = l._getCrbFromLocalStorage(); return Object.keys(e).length ? e : l._getCrbFromCookie(); }, _getKruxUserId: function _getKruxUserId() { return l._getLocalStorageSafely("kxkar_user"); }, _getKruxSegments: function _getKruxSegments() { return l._getLocalStorageSafely("kxkar_segs"); }, _getKrux: function _getKrux() { var e = l._getKruxSegments(), t = []; return e && (t = e.split(",")), { userID: l._getKruxUserId(), segments: t }; }, _getLocalStorageSafely: function _getLocalStorageSafely(e) { try { return u.getDataFromLocalStorage(e); } catch (e) { return null; } }, _getUserIds: function _getUserIds(e, t) { var r = l._getCrb(), n = { kargoID: r.userId, clientID: r.clientId, crbIDs: r.syncIds || {}, optOut: r.optOut, usp: t }; return e && (n.tdID = e), n; }, _getClientId: function _getClientId() { return l._getCrb().clientId; }, _getAllMetadata: function _getAllMetadata(e, t) { return { userIDs: l._getUserIds(e, t), krux: l._getKrux(), pageURL: window.location.href, rawCRB: l._readCookie("krg_crb"), rawCRBLocalStorage: l._getLocalStorageSafely("krg_crb") }; }, _getSessionId: function _getSessionId() { return o = o || l._generateRandomUuid(); }, _getRequestCount: function _getRequestCount() { return i === window.location.pathname ? ++c : (i = window.location.pathname, c = 0); }, _generateRandomUuid: function _generateRandomUuid() { try { var e = new Uint8Array(16); crypto.getRandomValues(e), e[6] = -177 & e[6] | 64, e[8] = -65 & e[8] | 128; var t = Array.prototype.map.call(new Uint8Array(e), function (e) { return ("00" + e.toString(16)).slice(-2); }).join(""); return t.slice(0, 8) + "-" + t.slice(8, 12) + "-" + t.slice(12, 16) + "-" + t.slice(16, 20) + "-" + t.slice(20); } catch (e) { return ""; } } }; Object(n.registerBidder)(l); } }, [493]); pbjsChunk([110], { 677: function _(e, r, t) { e.exports = t(678); }, 678: function _(e, r, t) { "use strict"; Object.defineProperty(r, "__esModule", { value: !0 }), t.d(r, "FASTLANE_ENDPOINT", function () { return o; }), t.d(r, "VIDEO_ENDPOINT", function () { return l; }), t.d(r, "SYNC_ENDPOINT", function () { return a; }), t.d(r, "spec", function () { return h; }), r.hasVideoMediaType = c, r.masSizeOrdering = S, r.determineRubiconVideoSizeId = C, r.getPriceGranularity = j, r.hasValidVideoParams = k, r.hasValidSupplyChainParams = T, r.encodeParam = w, r.resetUserSync = function () { R = !1; }; var g = t(0), i = t(1), b = t(3), u = t(2); function v(e, r) { return function (e) { if (Array.isArray(e)) return e; }(e) || function (e, r) { if ("undefined" == typeof Symbol || !(Symbol.iterator in Object(e))) return; var t = [], i = !0, n = !1, o = void 0; try { for (var a, s = e[Symbol.iterator](); !(i = (a = s.next()).done) && (t.push(a.value), !r || t.length !== r); i = !0) { ; } } catch (e) { n = !0, o = e; } finally { try { i || null == s.return || s.return(); } finally { if (n) throw o; } } return t; }(e, r) || function (e, r) { if (!e) return; if ("string" == typeof e) return n(e, r); var t = Object.prototype.toString.call(e).slice(8, -1); "Object" === t && e.constructor && (t = e.constructor.name); if ("Map" === t || "Set" === t) return Array.from(e); if ("Arguments" === t || /^(?:Ui|I)nt(?:8|16|32)(?:Clamped)?Array$/.test(t)) return n(e, r); }(e, r) || function () { throw new TypeError("Invalid attempt to destructure non-iterable instance.nIn order to be iterable, non-array objects must have a [Symbol.iterator]() method."); }(); } function n(e, r) { (null == r || r > e.length) && (r = e.length);
for (var t = 0, i = new Array(r); t < r; t++) { i[t] = e[t]; } return i; } function y() { return (y = Object.assign || function (e) { for (var r = 1; r < arguments.length; r++) { var t = arguments[r]; for (var i in t) { Object.prototype.hasOwnProperty.call(t, i) && (e[i] = t[i]); } } return e; }).apply(this, arguments); } function p(e, r, t) { return r in e ? Object.defineProperty(e, r, { value: t, enumerable: !0, configurable: !0, writable: !0 }) : e[r] = t, e; } function x(e) { return (x = "function" == typeof Symbol && "symbol" == _typeof(Symbol.iterator) ? function (e) { return _typeof(e); } : function (e) { return e && "function" == typeof Symbol && e.constructor === Symbol && e !== Symbol.prototype ? "symbol" : _typeof(e); })(e); } var o = "https://fastlane.rubiconproject.com/a/api/fastlane.json", l = "https://prebid-server.rubiconproject.com/openrtb2/auction", a = "https://eus.rubiconproject.com/usync.html", d = { FASTLANE: { id: "dt.id", keyv: "dt.keyv", pref: "dt.pref" }, PREBID_SERVER: { id: "id", keyv: "keyv" } }, f = { 1: "468x60", 2: "728x90", 5: "120x90", 8: "120x600", 9: "160x600", 10: "300x600", 13: "200x200", 14: "250x250", 15: "300x250", 16: "336x280", 17: "240x400", 19: "300x100", 31: "980x120", 32: "250x360", 33: "180x500", 35: "980x150", 37: "468x400", 38: "930x180", 39: "750x100", 40: "750x200", 41: "750x300", 42: "2x4", 43: "320x50", 44: "300x50", 48: "300x300", 53: "1024x768", 54: "300x1050", 55: "970x90", 57: "970x250", 58: "1000x90", 59: "320x80", 60: "320x150", 61: "1000x1000", 64: "580x500", 65: "640x480", 66: "930x600", 67: "320x480", 68: "1800x1000", 72: "320x320", 73: "320x160", 78: "980x240", 79: "980x300", 80: "980x400", 83: "480x300", 85: "300x120", 90: "548x150", 94: "970x310", 95: "970x100", 96: "970x210", 101: "480x320", 102: "768x1024", 103: "480x280", 105: "250x800", 108: "320x240", 113: "1000x300", 117: "320x100", 125: "800x250", 126: "200x600", 144: "980x600", 145: "980x150", 152: "1000x250", 156: "640x320", 159: "320x250", 179: "250x600", 195: "600x300", 198: "640x360", 199: "640x200", 213: "1030x590", 214: "980x360", 221: "1x1", 229: "320x180", 230: "2000x1400", 232: "580x400", 234: "6x6", 251: "2x2", 256: "480x820", 257: "400x600", 258: "500x200", 259: "998x200", 264: "970x1000", 265: "1920x1080", 274: "1800x200", 278: "320x500", 282: "320x400", 288: "640x380" }; g._each(f, function (e, r) { return f[e] = r; }); var h = { code: "rubicon", gvlid: 52, supportedMediaTypes: [u.b, u.d], isBidRequestValid: function isBidRequestValid(e) { if ("object" !== x(e.params)) return !1; for (var r = 0, t = ["accountId"https://r.search.yahoo.com/,"siteId"https://r.search.yahoo.com/,"zoneId"]; r < t.length; r++) { if (e.params[t[r]] = parseInt(e.params[t[r]]), isNaN(e.params[t[r]])) return g.logError("Rubicon: wrong format of accountId or siteId or zoneId."), !1; } var i = m(e, !0); return !!i && ("video" !== i || k(e)); }, buildRequests: function buildRequests(e, u) { var n, r = e.filter(function (e) { return "video" === m(e); }).map(function (e) { e.startTime = new Date().getTime(); var r, t, i = { id: e.transactionId, test: b.b.getConfig("debug") ? 1 : 0, cur: ["USD"], source: { tid: e.transactionId }, tmax: b.b.getConfig("TTL") || 1e3, imp: [{ exp: 300, id: e.adUnitCode, secure: 1, ext: p({}, e.bidder, e.params), video: g.deepAccess(e, "mediaTypes.video") || {} }], ext: { prebid: { cache: { vastxml: { returnCreative: !1 } }, targeting: { includewinners: !0, includebidderkeys: !1, pricegranularity: j(b.b) }, bidders: { rubicon: { integration: b.b.getConfig("rubicon.int_type") || "pbjs" } } } } }; "rubicon" !== e.bidder && (i.ext.prebid.aliases = p({}, e.bidder, "rubicon")), t = "function" != typeof e.getFloor || b.b.getConfig("rubicon.disableFloors") ? parseFloat(g.deepAccess(e, "params.floor")) : "object" !== x(r = e.getFloor({ currency: "USD", mediaType: "video", size: A(e, "video") })) || "USD" !== r.currency || isNaN(parseInt(r.floor)) ? void 0 : parseFloat(r.floor), isNaN(t) || (i.imp[0].bidfloor = t), i.imp[0].ext[e.bidder].video.size_id = C(e), function (r, t, e) { if (!r) return; "object" === x(b.b.getConfig("app")) ? r.app = b.b.getConfig("app") : r.site = { page: I(t, e) }; "object" === x(b.b.getConfig("device")) && (r.device = b.b.getConfig("device")); t.params.video.language && ["site"https://r.search.yahoo.com/,"device"].forEach(function (e) { r[e] && (r[e].content = y({ language: t.params.video.language }, r[e].content)); }); }(i, e, u), function (e, r) { "object" === x(e.imp[0].video) && void 0 === e.imp[0].video.skip && (e.imp[0].video.skip = r.params.video.skip); "object" === x(e.imp[0].video) && void 0 === e.imp[0].video.skipafter && (e.imp[0].video.skipafter = r.params.video.skipdelay); "object" === x(e.imp[0].video) && void 0 === e.imp[0].video.pos && ("atf" === r.params.position ? e.imp[0].video.pos = 1 : "btf" === r.params.position && (e.imp[0].video.pos = 3)); var t = A(r, "video"); e.imp[0].video.w = t[0], e.imp[0].video.h = t[1]; }(i, e); var n, o = _(e, "PREBID_SERVER"); o && g.deepSetValue(i, "user.ext.digitrust", o), u.gdprConsent && ("boolean" == typeof u.gdprConsent.gdprApplies && (n = u.gdprConsent.gdprApplies ? 1 : 0), g.deepSetValue(i, "regs.ext.gdpr", n), g.deepSetValue(i, "user.ext.consent", u.gdprConsent.consentString)), u.uspConsent && g.deepSetValue(i, "regs.ext.us_privacy", u.uspConsent), e.userId && "object" === x(e.userId) && (e.userId.tdid || e.userId.pubcid || e.userId.lipb || e.userId.idl_env) && (g.deepSetValue(i, "user.ext.eids", []), e.userId.tdid && i.user.ext.eids.push({ source: "adserver.org", uids: [{ id: e.userId.tdid, ext: { rtiPartner: "TDID" } }] }), e.userId.pubcid && i.user.ext.eids.push({ source: "pubcommon", uids: [{ id: e.userId.pubcid }] }), e.userId.lipb && e.userId.lipb.lipbid && (i.user.ext.eids.push({ source: "liveintent.com", uids: [{ id: e.userId.lipb.lipbid }] }), i.user.ext.tpid = { source: "liveintent.com", uid: e.userId.lipb.lipbid }, Array.isArray(e.userId.lipb.segments) && e.userId.lipb.segments.length && g.deepSetValue(i, "rp.target.LIseg", e.userId.lipb.segments)), e.userId.idl_env && i.user.ext.eids.push({ source: "liveramp.com", uids: [{ id: e.userId.idl_env }] })), !0 === b.b.getConfig("coppa") && g.deepSetValue(i, "regs.coppa", 1), e.schain && T(e.schain) && g.deepSetValue(i, "source.ext.schain", e.schain); var a, s = y({}, e.params.inventory, b.b.getConfig("fpd.context")), d = y({}, e.params.visitor, b.b.getConfig("fpd.user")); g.isEmpty(s) && g.isEmpty(d) || (a = { bidders: [u.bidderCode], config: { fpd: {} } }, g.isEmpty(s) || (a.config.fpd.site = s), g.isEmpty(d) || (a.config.fpd.user = d), g.deepSetValue(i, "ext.prebid.bidderconfig.0", a)); var c = g.deepAccess(e, "fpd.context.pbAdSlot"); return "string" == typeof c && c && g.deepSetValue(i.imp[0].ext, "context.data.adslot", c), e.storedAuctionResponse && g.deepSetValue(i.imp[0], "ext.prebid.storedauctionresponse.id", e.storedAuctionResponse.toString()), g.deepSetValue(i.imp[0], "ext.prebid.auctiontimestamp", u.auctionStart), { method: "POST", url: l, data: i, bidRequest: e }; }); return !0 !== b.b.getConfig("rubicon.singleRequest") ? r.concat(e.filter(function (e) { return "banner" === m(e); }).map(function (e) { var i = h.createSlotParams(e, u); return { method: "GET", url: o, data: h.getOrderedParams(i).reduce(function (e, r) { var t = i[r]; return g.isStr(t) && "" !== t || g.isNumber(t) ? "".concat(e).concat(w(r, t), "&") : e; }, "") + "slots=1&rand=".concat(Math.random()), bidRequest: e }; })) : (n = e.filter(function (e) { return "banner" === m(e); }).reduce(function (e, r) { return (e[r.params.siteId] = e[r.params.siteId] || []).push(r), e; }, {}), r.concat(Object.keys(n).reduce(function (r, e) { var t, i; return t = n[e], i = 10, t.map(function (e, r) { return r % i == 0 ? t.slice(r, r + i) : null; }).filter(function (e) { return e; }).forEach(function (e) { var i = h.combineSlotUrlParams(e.map(function (e) { return h.createSlotParams(e, u); })); r.push({ method: "GET", url: o, data: h.getOrderedParams(i).reduce(function (e, r) { var t = i[r]; return g.isStr(t) && "" !== t || g.isNumber(t) ? "".concat(e).concat(w(r, t), "&") : e; }, "") + "slots=".concat(e.length, "&rand=").concat(Math.random()), bidRequest: e }); }), r; }, []))); }, getOrderedParams: function getOrderedParams(e) { var r = /^tg_v/, t = /^tg_i/, i = ["account_id"https://r.search.yahoo.com/,"site_id"https://r.search.yahoo.com/,"zone_id"https://r.search.yahoo.com/,"size_id"https://r.search.yahoo.com/,"alt_size_ids"https://r.search.yahoo.com/,"p_pos"https://r.search.yahoo.com/,"gdpr"https://r.search.yahoo.com/,"gdpr_consent"https://r.search.yahoo.com/,"us_privacy"https://r.search.yahoo.com/,"rp_schain"https://r.search.yahoo.com/,"tpid_tdid"https://r.search.yahoo.com/,"tpid_liveintent.com"https://r.search.yahoo.com/,"tg_v.LIseg"https://r.search.yahoo.com/,"dt.id"https://r.search.yahoo.com/,"dt.keyv"https://r.search.yahoo.com/,"dt.pref"https://r.search.yahoo.com/,"rf"https://r.search.yahoo.com/,"p_geo.latitude"https://r.search.yahoo.com/,"p_geo.longitude"https://r.search.yahoo.com/,"kw"].concat(Object.keys(e).filter(function (e) { return r.test(e); })).concat(Object.keys(e).filter(function (e) { return t.test(e); })).concat(["tk_flint"https://r.search.yahoo.com/,"x_source.tid"https://r.search.yahoo.com/,"x_source.pchain"https://r.search.yahoo.com/,"p_screen_res"https://r.search.yahoo.com/,"rp_floor"https://r.search.yahoo.com/,"rp_secure"https://r.search.yahoo.com/,"tk_user_key"]); return i.concat(Object.keys(e).filter(function (e) { return -1 === i.indexOf(e); })); }, combineSlotUrlParams: function combineSlotUrlParams(n) { if (1 === n.length) return n[0]; var i = n.reduce(function (r, t, i) { return Object.keys(t).forEach(function (e) { r.hasOwnProperty(e) || (r[e] = new Array(n.length)), r[e].splice(i, 1, t[e]); }), r; }, {}), o = new RegExp("^([^;]*)(;1)+$"); return Object.keys(i).forEach(function (e) { var r = i[e].join(";"), t = r.match(o); i[e] = t ? t[1] : r; }), i; }, createSlotParams: function createSlotParams(e, r) { e.startTime = new Date().getTime(); var t, i = e.params, n = A(e, "banner"), o = v(i.latLong || [], 2), a = o[0], s = o[1], d = b.b.getConfig("rubicon.int_type"), c = { account_id: i.accountId, site_id: i.siteId, zone_id: i.zoneId, size_id: n[0], alt_size_ids: n.slice(1).join(",") || void 0, rp_floor: .01 < (i.floor = parseFloat(i.floor)) ? i.floor : .01, rp_secure: "1", tk_flint: "".concat(d || "pbjs_lite"https://r.search.yahoo.com/,"_v3.23.0"), "x_source.tid": e.transactionId, "x_source.pchain": i.pchain, p_screen_res: [window.screen.width, window.screen.height].join("x"), tk_user_key: i.userId, "p_geo.latitude": isNaN(parseFloat(a)) ? void 0 : parseFloat(a).toFixed(4), "p_geo.longitude": isNaN(parseFloat(s)) ? void 0 : parseFloat(s).toFixed(4), "tg_fl.eid": e.code, rf: I(e, r) }; "function" != typeof e.getFloor || b.b.getConfig("rubicon.disableFloors") || (t = e.getFloor({ currency: "USD", mediaType: "banner", size: "*" }), c.rp_hard_floor = "object" !== x(t) || "USD" !== t.currency || isNaN(parseInt(t.floor)) ? void 0 : t.floor), c.p_pos = "atf" === i.position || "btf" === i.position ? i.position : "", e.userId && (e.userId.tdid && (c.tpid_tdid = e.userId.tdid), e.userId.lipb && e.userId.lipb.lipbid && (c["tpid_liveintent.com"] = e.userId.lipb.lipbid, Array.isArray(e.userId.lipb.segments) && e.userId.lipb.segments.length && (c["tg_v.LIseg"] = e.userId.lipb.segments.join(","))), e.userId.idl_env && (c["tpid_liveramp.com"] = e.userId.idl_env)), r.gdprConsent && ("boolean" == typeof r.gdprConsent.gdprApplies && (c.gdpr = Number(r.gdprConsent.gdprApplies)), c.gdpr_consent = r.gdprConsent.consentString), r.uspConsent && (c.us_privacy = encodeURIComponent(r.uspConsent)); var u = y({}, i.visitor, b.b.getConfig("fpd.user")); Object.keys(u).forEach(function (e) { null != u[e] && "keywords" !== e && (c["tg_v.".concat(e)] = "object" !== x(u[e]) || Array.isArray(u[e]) ? u[e].toString() : JSON.stringify(u[e])); }); var p = y({}, i.inventory, b.b.getConfig("fpd.context")); Object.keys(p).forEach(function (e) { null != p[e] && "keywords" !== e && (c["tg_i.".concat(e)] = "object" !== x(p[e]) || Array.isArray(p[e]) ? p[e].toString() : JSON.stringify(p[e])); }); var l = (i.keywords || []).concat(g.deepAccess(b.b.getConfig("fpd.user"), "keywords") || [], g.deepAccess(b.b.getConfig("fpd.context"), "keywords") || []); c.kw = Array.isArray(l) && l.length ? l.join(",") : ""; var f = g.deepAccess(e, "fpd.context.pbAdSlot"); "string" == typeof f && f && (c["tg_i.dfp_ad_unit_code"] = f.replace(/^/+/, "")); var m = _(e, "FASTLANE"); return y(c, m), !0 === b.b.getConfig("coppa") && (c.coppa = 1), e.schain && T(e.schain) && (c.rp_schain = h.serializeSupplyChain(e.schain)), c; }, serializeSupplyChain: function serializeSupplyChain(e) { if (!T(e)) return ""; var r = e.ver, t = e.complete, i = e.nodes; return "".concat(r, ",").concat(t, "!").concat(h.serializeSupplyChainNodes(i)); }, serializeSupplyChainNodes: function serializeSupplyChainNodes(e) { var t = ["asi"https://r.search.yahoo.com/,"sid"https://r.search.yahoo.com/,"hp"https://r.search.yahoo.com/,"rid"https://r.search.yahoo.com/,"name"https://r.search.yahoo.com/,"domain"]; return e.map(function (r) { return t.map(function (e) { return encodeURIComponent(r[e] || ""); }).join(","); }).join("!"); }, interpretResponse: function interpretResponse(d, e) { var c = e.bidRequest; if (!(d = d.body) || "object" !== x(d)) return []; if (d.seatbid) { var r = g.deepAccess(d, "ext.errors.rubicon"); Array.isArray(r) && 0 < r.length && g.logWarn("Rubicon: Error in video response"); var o = []; return d.seatbid.forEach(function (n) { (n.bid || []).forEach(function (e) { var r = { requestId: c.bidId, currency: d.cur || "USD", creativeId: e.crid, cpm: e.price || 0, bidderCode: n.seat, ttl: 300, netRevenue: !1 !== b.b.getConfig("rubicon.netRevenue"), width: e.w || g.deepAccess(c, "mediaTypes.video.w") || g.deepAccess(c, "params.video.playerWidth"), height: e.h || g.deepAccess(c, "mediaTypes.video.h") || g.deepAccess(c, "params.video.playerHeight") }; e.id && (r.seatBidId = e.id), e.dealid && (r.dealId = e.dealid); var t, i = g.deepAccess(d, "ext.responsetimemillis.rubicon"); c && i && (c.serverResponseTimeMs = i), g.deepAccess(e, "ext.prebid.type") === u.d ? (r.mediaType = u.d, (t = g.deepAccess(e, "ext.prebid.targeting")) && "object" === x(t) && (r.adserverTargeting = t), e.ext.prebid.cache && "object" === x(e.ext.prebid.cache.vastXml) && e.ext.prebid.cache.vastXml.cacheId && e.ext.prebid.cache.vastXml.url ? (r.videoCacheKey = e.ext.prebid.cache.vastXml.cacheId, r.vastUrl = e.ext.prebid.cache.vastXml.url) : t && t.hb_uuid && t.hb_cache_host && t.hb_cache_path && (r.videoCacheKey = t.hb_uuid, r.vastUrl = "https://".concat(t.hb_cache_host).concat(t.hb_cache_path, "?uuid=").concat(t.hb_uuid)), e.adm && (r.vastXml = e.adm), e.nurl && (r.vastUrl = e.nurl), !r.vastUrl && e.nurl && (r.vastUrl = e.nurl)) : g.logWarn("Rubicon: video response received non-video media type"), o.push(r); }); }), o; } var t = d.ads; return "object" !== x(c) || Array.isArray(c) || "video" !== m(c) || "object" !== x(t) || (t = t[c.adUnitCode]), !Array.isArray(t) || t.length < 1 ? [] : t.reduce(function (e, r, t) { if ("ok" !== r.status) return e; var i, n, o, a, s = Array.isArray(c) ? c[t] : c; return s && "object" === x(s) ? (i = { requestId: s.bidId, currency: "USD", creativeId: r.creative_id || "".concat(r.network || ""https://r.search.yahoo.com/,"-").concat(r.advertiser || ""), cpm: r.cpm || 0, dealId: r.deal, ttl: 300, netRevenue: !1 !== b.b.getConfig("rubicon.netRevenue"), rubicon: { advertiserId: r.advertiser, networkId: r.network }, meta: { advertiserId: r.advertiser, networkId: r.network } }, r.creative_type && (i.mediaType = r.creative_type), r.creative_type === u.d ? (i.width = s.params.video.playerWidth, i.height = s.params.video.playerHeight, i.vastUrl = r.creative_depot_url, i.impression_id = r.impression_id, i.videoCacheKey = r.impression_id) : (i.ad = (o = r.script, a = r.impression_id, "n
nnx3c!-- Rubicon Project Ad Tag --x3en
nn
nn")), n = v(f[r.size_id].split("x").map(function (e) {
return Number(e);
}), 2), i.width = n[0], i.height = n[1]), i.rubiconTargeting = (Array.isArray(r.targeting) ? r.targeting : []).reduce(function (e, r) {
return e[r.key] = r.values[0], e;
}, {
rpfl_elemid: s.adUnitCode
}), e.push(i)) : g.logError("Rubicon: bidRequest undefined at index position:".concat(t), c, d), e;
}, []).sort(function (e, r) {
return (r.cpm || 0) - (e.cpm || 0);
});
},
getUserSyncs: function getUserSyncs(e, r, t, i) {
if (!R && e.iframeEnabled) {
var n = "";
return t && "string" == typeof t.consentString && ("boolean" == typeof t.gdprApplies ? n += "?gdpr=".concat(Number(t.gdprApplies), "&gdpr_consent=").concat(t.consentString) : n += "?gdpr_consent=".concat(t.consentString)), i && (n += "".concat(n ? "&" : "?"https://r.search.yahoo.com/,"us_privacy=").concat(encodeURIComponent(i))), R = !0, {
type: "iframe",
url: a + n
};
}
},
transformBidParams: function transformBidParams(e) {
return g.convertTypes({
accountId: "number",
siteId: "number",
zoneId: "number"
}, e);
}
};
function _(e, r) {
var t,
i = 0 < arguments.length && void 0 !== e ? e : {}, n = 1 < arguments.length ? r : void 0; if (!n || !d[n]) return null; var o = d[n]; var a = function () { var e = g.deepAccess(i, "userId.digitrustid.data"); if (e) return e; var r = window.DigiTrust && (b.b.getConfig("digiTrustId") || window.DigiTrust.getUser({ member: "T9QSFKPDN9" })); return r && r.success && r.identity || null; }(); if (!a || a.privacy && a.privacy.optout) return null; var s = (p(t = {}, o.id, a.id), p(t, o.keyv, a.keyv), t); return o.pref && (s[o.pref] = 0), s; } function I(e, r) { var t = b.b.getConfig("pageUrl"), t = e.params.referrer ? e.params.referrer : t || r.refererInfo.referer; return e.params.secure ? t.replace(/^http:/i, "https:") : t; } function A(e, r) { var t = e.params; if ("video" === r) { var i = []; return t.video && t.video.playerWidth && t.video.playerHeight ? i = [t.video.playerWidth, t.video.playerHeight] : Array.isArray(g.deepAccess(e, "mediaTypes.video.playerSize")) && 1 === e.mediaTypes.video.playerSize.length ? i = e.mediaTypes.video.playerSize[0] : Array.isArray(e.sizes) && 0 < e.sizes.length && Array.isArray(e.sizes[0]) && 1 < e.sizes[0].length && (i = e.sizes[0]), i; } var n = []; return Array.isArray(t.sizes) ? n = t.sizes : void 0 !== g.deepAccess(e, "mediaTypes.banner.sizes") ? n = s(e.mediaTypes.banner.sizes) : Array.isArray(e.sizes) && 0 < e.sizes.length ? n = s(e.sizes) : g.logWarn("Rubicon: no sizes are setup or found"), S(n); } function s(e) { return g.parseSizesInput(e).reduce(function (e, r) { var t = parseInt(f[r], 10); return t && e.push(t), e; }, []); } function c(e) { return "object" === x(g.deepAccess(e, "params.video")) && void 0 !== g.deepAccess(e, "mediaTypes.".concat(u.d)); } function m(e, r) { var t = 1 < arguments.length && void 0 !== r && r; return c(e) ? -1 === ["outstream"https://r.search.yahoo.com/,"instream"].indexOf(g.deepAccess(e, "mediaTypes.".concat(u.d, ".context"))) ? void (t && g.logError("Rubicon: mediaTypes.video.context must be outstream or instream")) : A(e, "video").length < 2 ? void (t && g.logError("Rubicon: could not determine the playerSize of the video")) : (t && g.logMessage("Rubicon: making video request for adUnit", e.adUnitCode), "video") : 0 === A(e, "banner").length ? void (t && g.logError("Rubicon: could not determine the sizes for banner request")) : (t && g.logMessage("Rubicon: making banner request for adUnit", e.adUnitCode), "banner"); } function S(e) { var n = [15, 2, 9]; return e.sort(function (e, r) { var t = n.indexOf(e), i = n.indexOf(r); return -1 < t || -1 < i ? -1 === t ? 1 : -1 === i ? -1 : t - i : e - r; }); } function C(e) { var r = parseInt(g.deepAccess(e, "params.video.size_id")); return isNaN(r) ? "outstream" === g.deepAccess(e, "mediaTypes.".concat(u.d, ".context")) ? 203 : 201 : r; } function j(e) { return { ranges: { low: [{ max: 5, increment: .5 }], medium: [{ max: 20, increment: .1 }], high: [{ max: 20, increment: .01 }], auto: [{ max: 5, increment: .05 }, { min: 5, max: 10, increment: .1 }, { min: 10, max: 20, increment: .5 }], dense: [{ max: 3, increment: .01 }, { min: 3, max: 8, increment: .05 }, { min: 8, max: 20, increment: .5 }], custom: e.getConfig("customPriceBucket") && e.getConfig("customPriceBucket").buckets }[e.getConfig("priceGranularity")] }; } function k(r) { var t = !0, e = Object.prototype.toString.call([]), i = Object.prototype.toString.call(0), n = { mimes: e, protocols: e, maxduration: i, linearity: i, api: e }; return Object.keys(n).forEach(function (e) { Object.prototype.toString.call(g.deepAccess(r, "mediaTypes.video." + e)) !== n[e] && (t = !1, g.logError("Rubicon: mediaTypes.video." + e + " is required and must be of type: " + n[e])); }), t; } function T(e) { var r = !1, t = ["asi"https://r.search.yahoo.com/,"sid"https://r.search.yahoo.com/,"hp"]; return e.nodes && ((r = e.nodes.reduce(function (e, r) { return e ? t.every(function (e) { return r[e]; }) : e; }, !0)) || g.logError("Rubicon: required schain params missing")), r; } function w(e, r) { return "rp_schain" === e ? "rp_schain=".concat(r) : "".concat(e, "=").concat(encodeURIComponent(r)); } var R = !1; Object(i.registerBidder)(h); } }, [677]); pbjsChunk([93], { 719: function _(e, t, r) { e.exports = r(720); }, 720: function _(e, t, r) { "use strict"; Object.defineProperty(t, "__esModule", { value: !0 }), r.d(t, "spec", function () { return o; }), r.d(t, "_isInbounds", function () { return a; }), t._getPlatform = v; var n = r(1), y = r(0), i = r(2), c = r(3), g = r(10), d = r(44); function h(e, t) { return function (e) { if (Array.isArray(e)) return e; }(e) || function (e, t) { if ("undefined" == typeof Symbol || !(Symbol.iterator in Object(e))) return; var r = [], n = !0, i = !1, s = void 0; try { for (var o, a = e[Symbol.iterator](); !(n = (o = a.next()).done) && (r.push(o.value), !t || r.length !== t); n = !0) { ; } } catch (e) { i = !0, s = e; } finally { try { n || null == a.return || a.return(); } finally { if (i) throw s; } } return r; }(e, t) || function (e, t) { if (!e) return; if ("string" == typeof e) return s(e, t); var r = Object.prototype.toString.call(e).slice(8, -1); "Object" === r && e.constructor && (r = e.constructor.name); if ("Map" === r || "Set" === r) return Array.from(e); if ("Arguments" === r || /^(?:Ui|I)nt(?:8|16|32)(?:Clamped)?Array$/.test(r)) return s(e, t); }(e, t) || function () { throw new TypeError("Invalid attempt to destructure non-iterable instance.nIn order to be iterable, non-array objects must have a [Symbol.iterator]() method."); }(); } function s(e, t) { (null == t || t > e.length) && (t = e.length);
for (var r = 0, n = new Array(t); r < t; r++) { n[r] = e[r]; } return n; } function u() { return (u = Object.assign || function (e) { for (var t = 1; t < arguments.length; t++) { var r = arguments[t]; for (var n in r) { Object.prototype.hasOwnProperty.call(r, n) && (e[n] = r[n]); } } return e; }).apply(this, arguments); } function p(e, t, r) { return t in e ? Object.defineProperty(e, t, { value: r, enumerable: !0, configurable: !0, writable: !0 }) : e[t] = r, e; } var b = "sonobi", l = Object(y.generateUUID)(), o = { code: b, supportedMediaTypes: [i.b, i.d], isBidRequestValid: function isBidRequestValid(e) { if (!e.params) return !1; if (!e.params.ad_unit && !e.params.placement_id) return !1; if (!Object(y.deepAccess)(e, "mediaTypes.banner") && !Object(y.deepAccess)(e, "mediaTypes.video")) return !1; if (Object(y.deepAccess)(e, "mediaTypes.banner")) { if (!Object(y.deepAccess)(e, "mediaTypes.banner.sizes") && !e.params.sizes) return !1; } else if (Object(y.deepAccess)(e, "mediaTypes.video")) { if ("outstream" === Object(y.deepAccess)(e, "mediaTypes.video.context") && !e.params.sizes) return !1; if ("instream" === Object(y.deepAccess)(e, "mediaTypes.video.context") && !Object(y.deepAccess)(e, "mediaTypes.video.playerSize")) return !1; } return !0; }, buildRequests: function buildRequests(e, t) { var r = e.map(function (e) { var t = function (e) { if (e.params.ad_unit) return e.params.ad_unit; return e.params.placement_id; }(e); return /^[/]?[d]+[[/].+[/]?]?$/.test(t) ? (t = "/" === t.charAt(0) ? t : "/" + t, p({}, "".concat(t, "|").concat(e.bidId), "".concat(f(e)).concat(m(e)))) : /^[0-9a-fA-F]{20}$/.test(t) && 20 === t.length ? p({}, e.bidId, "".concat(t, "|").concat(f(e)).concat(m(e))) : void Object(y.logError)("The ad unit code or Sonobi Placement id for slot ".concat(e.bidId, " is invalid")); }), n = {}; r.forEach(function (e) { u(n, e); }); var i = { key_maker: JSON.stringify(n), ref: t.refererInfo.referer, s: Object(y.generateUUID)(), pv: l, vp: v(), lib_name: "prebid", lib_v: "3.23.0", us: 0 }; c.b.getConfig("userSync") && c.b.getConfig("userSync").syncsPerBidder && (i.us = c.b.getConfig("userSync").syncsPerBidder), d.a.canBidderRegisterSync("iframe", b) ? i.ius = 1 : i.ius = 0, Object(y.deepAccess)(e[0], "params.hfa") && (i.hfa = Object(y.deepAccess)(e[0], "params.hfa")), e[0].params.referrer && (i.ref = e[0].params.referrer), t && t.gdprConsent && (i.gdpr = t.gdprConsent.gdprApplies ? "true" : "false", t.gdprConsent.consentString && (i.consent_string = t.gdprConsent.consentString)); var s = function (t) { var e = function () { var e = window.DigiTrust && (c.b.getConfig("digiTrustId") || window.DigiTrust.getUser({ member: t })); return e && e.success && e.identity || null; }(); if (!e || e.privacy && e.privacy.optout) return null; return e; }("fhnS5drwmH"); s && (i.digid = s.id, i.digkeyv = s.keyv), e[0].schain && (i.schain = JSON.stringify(e[0].schain)), Object(y.deepAccess)(e[0], "userId") && 0 < Object.keys(e[0].userId).length && (i.userid = JSON.stringify(e[0].userId)); var o = e[0].params.keywords; if (o && (i.kw = o), t && t.uspConsent && (i.us_privacy = t.uspConsent), Object(y.isEmpty)(n)) return null; var a = "https://apex.go.sonobi.com/trinity.json"; return Object(y.deepAccess)(e[0], "params.bid_request_url") && (a = Object(y.deepAccess)(e[0], "params.bid_request_url")), { method: "GET", url: a, withCredentials: !0, data: i, bidderRequests: e }; }, interpretResponse: function interpretResponse(e, l) { var f = e.body, m = [], v = l.data.ref; return 0 === Object.keys(f.slots).length || Object.keys(f.slots).forEach(function (e) { var t = f.slots[e], r = e.split("|").slice(-1)[0], n = function (e, t) { for (var r = 0; r < e.length; r++) { if (e[r].bidId === t) return e[r]; } }(l.bidderRequests, r), i = null; "video" === t.sbi_ct && (i = "video"https://r.search.yahoo.com/,"outstream" === Object(y.deepAccess)(n, "mediaTypes.video.context") && (i = "outstream")); var s, o, a, c, d, u, p, b = j(i, v); t.sbi_aid && t.sbi_mouse && t.sbi_size && (a = void 0 === (o = (s = h(t.sbi_size.split("x"), 2))[0]) ? 1 : o, d = void 0 === (c = s[1]) ? 1 : c, u = { requestId: r, cpm: Number(t.sbi_mouse), width: Number(a), height: Number(d), ad: b(f.sbi_dc, t.sbi_aid), ttl: 500, creativeId: t.sbi_crid || t.sbi_aid, aid: t.sbi_aid, netRevenue: !0, currency: "USD" }, t.sbi_dozer && (u.dealId = t.sbi_dozer), "video" === i ? (u.mediaType = "video", u.vastUrl = b(f.sbi_dc, t.sbi_aid), delete u.ad, delete u.width, delete u.height) : "outstream" === i && n && (u.mediaType = "video", u.vastUrl = b(f.sbi_dc, t.sbi_aid), u.renderer = function (e, t) { var r = 2 < arguments.length && void 0 !== arguments[2] ? arguments[2] : {}, n = g.a.install({ id: t.aid, url: "https://mtrx.go.sonobi.com/sbi_outstream_renderer.js", config: r, loaded: !1, adUnitCode: e }); try { n.setRender(O); } catch (e) { Object(y.logWarn)("Prebid Error calling setRender on renderer", e); } return n.setEventHandlers({ impression: function impression() { return Object(y.logMessage)("Sonobi outstream video impression event"); }, loaded: function loaded() { return Object(y.logMessage)("Sonobi outstream video loaded event"); }, ended: function ended() { Object(y.logMessage)("Sonobi outstream renderer video event"); } }), n; }(n.adUnitCode, u, Object(y.deepAccess)(n, "renderer.options")), p = Object(y.deepAccess)(n, "params.sizes"), Array.isArray(p) && Array.isArray(p[0]) && (p = p[0]), p && (u.width = p[0], u.height = p[1])), m.push(u)); }), m; }, getUserSyncs: function getUserSyncs(e, t) { var r = []; try { e.pixelEnabled && t[0].body.sbi_px.forEach(function (e) { r.push({ type: e.type, url: e.url }); }); } catch (e) {} return r; } }; function f(e) { return Object(y.deepAccess)(e, "mediaTypes.video") ? "" : e.params.sizes ? Object(y.parseSizesInput)(e.params.sizes).join(",") : Object(y.deepAccess)(e, "mediaTypes.banner.sizes") ? Object(y.parseSizesInput)(Object(y.deepAccess)(e, "mediaTypes.banner.sizes")).join(",") : e.sizes ? Object(y.parseSizesInput)(e.sizes).join(",") : void 0; } function m(e) { return e.params.floor ? "|f=".concat(e.params.floor) : ""; } var j = function j(i, s) { return function (e, t) { return "video" === i || "outstream" === i ? (r = t, n = s, "https://".concat(e, "apex.go.sonobi.com/vast.xml?vid=").concat(r, "&ref=").concat(encodeURIComponent(n))) : '';
var r, n;
};
};
var a = function a(e) {
var r = 0 < arguments.length && void 0 !== e ? e : window; return function () { var e = 0 < arguments.length && void 0 !== arguments[0] ? arguments[0] : 0, t = 1 < arguments.length && void 0 !== arguments[1] ? arguments[1] : Number.MAX_SAFE_INTEGER; return r.innerWidth >= e && r.innerWidth < t; }; }; function v() { var e = 0 < arguments.length && void 0 !== arguments[0] ? arguments[0] : window, t = a(e), r = 992, n = 768; return t(0, 768) ? "mobile" : t(n, r) ? "tablet" : "desktop"; } function O(i) { i.renderer.push(function () { var e = h(i.getSize().split("x"), 2), t = e[0], r = e[1], n = new window.SbiOutstreamRenderer(); n.init({ vastUrl: i.vastUrl, height: r, width: t }), n.setRootElement(i.adUnitCode); }); } Object(n.registerBidder)(o); } }, [719]); pbjsChunk([85], { 741: function _(e, r, t) { e.exports = t(742); }, 742: function _(e, r, t) { "use strict"; Object.defineProperty(r, "__esModule", { value: !0 }), t.d(r, "spec", function () { return n; }); var a = t(1), d = t(0), p = 12, o = 11, c = 0, u = 22, n = { code: "teads", supportedMediaTypes: ["video"https://r.search.yahoo.com/,"banner"], isBidRequestValid: function isBidRequestValid(e) { var r, t, a = !1; return void 0 !== e.params && (r = i(d.getValue(e.params, "placementId")), t = i(d.getValue(e.params, "pageId")), a = r && t), a || d.logError("Teads placementId and pageId parameters are required. Bid aborted."), a; }, buildRequests: function buildRequests(e, r) { var t = e.map(I), a = { referrer: function (e) { var r = ""; e && e.refererInfo && e.refererInfo.referer && (r = e.refererInfo.referer); return r; }(r), data: t, deviceWidth: screen.width, hb_version: "3.23.0" }; e[0].schain && (a.schain = e[0].schain); var n, d, i, s = r.gdprConsent; return r && s && (n = "boolean" == typeof s.gdprApplies, d = "string" == typeof s.consentString, i = n ? function (e, r, t) { var a = p; e ? function (e, r) { return e && 1 === r ? e.hasGlobalScope || e.hasGlobalConsent : !(!e || 2 !== r) && !e.isServiceSpecific; }(r, t) && (a = o) : a = c; return a; }(s.gdprApplies, s.vendorData, s.apiVersion) : u, a.gdpr_iab = { consent: d ? s.consentString : "", status: i, apiVersion: s.apiVersion }), r && r.uspConsent && (a.us_privacy = r.uspConsent), { method: "POST", url: "https://a.teads.tv/hb/bid-request", data: JSON.stringify(a) }; }, interpretResponse: function interpretResponse(e) { var t = []; return (e = e.body).responses && e.responses.forEach(function (e) { var r = { cpm: e.cpm, width: e.width, height: e.height, currency: e.currency, netRevenue: !0, ttl: e.ttl, ad: e.ad, requestId: e.bidId, creativeId: e.creativeId, placementId: e.placementId }; e.dealId && (r.dealId = e.dealId), t.push(r); }), t; } }; function I(e) { var r, t = {}, a = d.getValue(e.params, "placementId"), n = d.getValue(e.params, "pageId"); return t.sizes = (r = e, d.parseSizesInput(function (e) { var r = d.deepAccess(e, "mediaTypes.video.playerSize"), t = d.deepAccess(e, "mediaTypes.video.sizes"), a = d.deepAccess(e, "mediaTypes.banner.sizes"); return d.isArray(a) || d.isArray(r) || d.isArray(t) ? [a, t, r].reduce(function (r, e) { return d.isArray(e) && (d.isArray(e[0]) ? e.forEach(function (e) { r.push(e); }) : r.push(e)), r; }, []) : e.sizes; }(r))), t.bidId = d.getBidIdParameter("bidId", e), t.bidderRequestId = d.getBidIdParameter("bidderRequestId", e), t.placementId = parseInt(a, 10), t.pageId = parseInt(n, 10), t.adUnitCode = d.getBidIdParameter("adUnitCode", e), t.auctionId = d.getBidIdParameter("auctionId", e), t.transactionId = d.getBidIdParameter("transactionId", e), t; } function i(e) { return 0 < parseInt(e); } Object(a.registerBidder)(n); } }, [741]); pbjsChunk([76], { 761: function _(r, e, t) { r.exports = t(762); }, 762: function _(r, e, t) { "use strict"; Object.defineProperty(e, "__esModule", { value: !0 }), t.d(e, "tripleliftAdapterSpec", function () { return s; }); var n = t(2), i = t(1), o = t(0), u = t(3); function p(r) { return function (r) { if (Array.isArray(r)) return d(r); }(r) || function (r) { if ("undefined" != typeof Symbol && Symbol.iterator in Object(r)) return Array.from(r); }(r) || function (r, e) { if (!r) return; if ("string" == typeof r) return d(r, e); var t = Object.prototype.toString.call(r).slice(8, -1); "Object" === t && r.constructor && (t = r.constructor.name); if ("Map" === t || "Set" === t) return Array.from(r); if ("Arguments" === t || /^(?:Ui|I)nt(?:8|16|32)(?:Clamped)?Array$/.test(t)) return d(r, e); }(r) || function () { throw new TypeError("Invalid attempt to spread non-iterable instance.nIn order to be iterable, non-array objects must have a [Symbol.iterator]() method."); }(); } function d(r, e) { (null == e || e > r.length) && (e = r.length);
for (var t = 0, n = new Array(e); t < e; t++) { n[t] = r[t]; } return n; } var a = !0, c = null, s = { code: "triplelift", supportedMediaTypes: [n.b], isBidRequestValid: function isBidRequestValid(r) { return void 0 !== r.params.inventoryCode; }, buildRequests: function buildRequests(r, e) { var t, n = "https://tlx.3lift.com/header/auction?", i = function (r) { var e = {}, t = r[0].schain; e.imp = r.map(function (r, e) { return { id: e, tagid: r.params.inventoryCode, floor: r.params.floor, banner: { format: r.sizes.filter(l).map(function (r) { return { w: r[0], h: r[1] }; }) } }; }); var n = [].concat(p(function (r) { return f(r, "tdid"https://r.search.yahoo.com/,"adserver.org"https://r.search.yahoo.com/,"TDID"); }(r)), p(function (r) { return f(r, "idl_env"https://r.search.yahoo.com/,"liveramp.com"https://r.search.yahoo.com/,"idl"); }(r)), p(function (r) { return f(r, "criteoId"https://r.search.yahoo.com/,"criteo.com"https://r.search.yahoo.com/,"criteoId"); }(r))); 0 < n.length && (e.user = { ext: { eids: n } }); t && (e.ext = { schain: t }); return e; }(r); return n = o.tryAppendQueryString(n, "lib"https://r.search.yahoo.com/,"prebid"), n = o.tryAppendQueryString(n, "v"https://r.search.yahoo.com/,"3.23.0"), e && e.refererInfo && (t = e.refererInfo.referer, n = o.tryAppendQueryString(n, "referrer", t)), e && e.timeout && (n = o.tryAppendQueryString(n, "tmax", e.timeout)), e && e.gdprConsent && (void 0 !== e.gdprConsent.gdprApplies && (a = e.gdprConsent.gdprApplies, n = o.tryAppendQueryString(n, "gdpr", a.toString())), void 0 !== e.gdprConsent.consentString && (c = e.gdprConsent.consentString, n = o.tryAppendQueryString(n, "cmp_cs", c))), e && e.uspConsent && (n = o.tryAppendQueryString(n, "us_privacy", e.uspConsent)), !0 === u.b.getConfig("coppa") && (n = o.tryAppendQueryString(n, "coppa", !0)), n.lastIndexOf("&") === n.length - 1 && (n = n.substring(0, n.length - 1)), o.logMessage("tlCall request built: " + n), { method: "POST", url: n, data: i, bidderRequest: e }; }, interpretResponse: function interpretResponse(r, e) { var t = e.bidderRequest; return (r.body.bids || []).map(function (r) { return function (r, e) { var t = {}, n = e.width || 1, i = e.height || 1, u = e.deal_id || "", o = e.crid || ""; 0 != e.cpm && e.ad && (t = { requestId: r.bids[e.imp_id].bidId, cpm: e.cpm, width: n, height: i, netRevenue: !0, ad: e.ad, creativeId: o, dealId: u, currency: "USD", ttl: 300, tl_source: e.tl_source }); return t; }(t, r); }); }, getUserSyncs: function getUserSyncs(r, e, t, n) { var i = function (r) { if (!r) return; if (r.iframeEnabled) return "iframe"; if (r.pixelEnabled) return "image"; }(r); if (i) { var u = "https://eb2.3lift.com/sync?"; return "image" === i && (u = o.tryAppendQueryString(u, "px", 1), u = o.tryAppendQueryString(u, "src"https://r.search.yahoo.com/,"prebid")), null !== c && (u = o.tryAppendQueryString(u, "gdpr", a), u = o.tryAppendQueryString(u, "cmp_cs", c)), n && (u = o.tryAppendQueryString(u, "us_privacy", n)), [{ type: i, url: u }]; } } }; function f(r, e, t, n) { return r.map((o = e, function (r) { return r && r.userId && r.userId[o]; })).filter(function (r) { return !!r; }).map((i = t, u = n, function (r) { return { source: i, uids: [{ id: r, ext: { rtiPartner: u } }] }; })); var i, u, o; } function l(r) { return 2 === r.length && "number" == typeof r[0] && "number" == typeof r[1]; } Object(i.registerBidder)(s); } }, [761]); pbjsChunk([75], { 763: function _(e, r, t) { e.exports = t(764); }, 764: function _(e, r, t) { "use strict"; Object.defineProperty(r, "__esModule", { value: !0 }), t.d(r, "spec", function () { return v; }); var m = t(0), s = t(1), o = t(10), c = t(2), f = "Bid from response has no auid parameter - ", l = "Bid from response has no adm parameter - ", p = "Array of bid objects is empty", g = "Can't find in requested bids the bid with auid - ", u = "Seatbid array from response has empty item", y = "Response is empty", b = "Response has empty seatbid array", h = "Seatbid from response has no array of bid objects - ", v = { code: "trustx", supportedMediaTypes: [c.b, c.d], isBidRequestValid: function isBidRequestValid(e) { return !!e.params.uid; }, buildRequests: function buildRequests(e, r) { var a, o, p = [], u = {}, c = {}, f = {}, l = "net"; (e || []).forEach(function (e) { "gross" === e.params.priceType && (l = "gross"), o = e.bidderRequestId; var r = e.params.uid, t = e.adUnitCode; p.push(r); var s, n = m.parseSizesInput(e.sizes); a || m.isEmpty(e.params.keywords) || (0 < (s = m.transformBidderParamKeywords(e.params.keywords)).length && s.forEach(E), a = s), c[r] || (c[r] = {}); var d = c[r]; d[t] ? d[t].bids.push(e) : d[t] = { adUnitCode: t, bids: [e], parents: [] }; var i = d[t]; n.forEach(function (e) { f[e] = !0, u[r] || (u[r] = {}), u[r][e] ? u[r][e].push(i) : u[r][e] = [i], i.parents.push({ parent: u[r], key: e, uid: r }); }); }); var t = { pt: l, auids: p.join(","), sizes: m.getKeys(f).join(","), r: o, wrapperType: "Prebid_js", wrapperVersion: "3.23.0" }; return a && (t.keywords = JSON.stringify(a)), r && (r.refererInfo && r.refererInfo.referer && (t.u = r.refererInfo.referer), r.timeout && (t.wtimeout = r.timeout), r.gdprConsent && (r.gdprConsent.consentString && (t.gdpr_consent = r.gdprConsent.consentString), t.gdpr_applies = "boolean" == typeof r.gdprConsent.gdprApplies ? Number(r.gdprConsent.gdprApplies) : 1), r.uspConsent && (t.us_privacy = r.uspConsent)), { method: "GET", url: "https://sofia.trustx.org/hb", data: m.parseQueryStringParameters(t).replace(/&$/, ""), bidsMap: u }; }, interpretResponse: function interpretResponse(e, r, t) { var s = 2 < arguments.length && void 0 !== t ? t : o.a; e = e && e.body; var n, d = [], i = r.bidsMap, a = r.data.pt; return e ? e.seatbid && !e.seatbid.length && (n = b) : n = y, !n && e.seatbid && e.seatbid.forEach(function (e) { !function (e, d, r, t, s) { if (!e) return; var n; e.auid || (n = f + JSON.stringify(e)); { var i, a, o, p, u; e.adm ? (i = d[e.auid]) ? (a = "".concat(e.w, "x").concat(e.h), i[a] && (o = i[a][0], p = o.bids.shift(), u = { requestId: p.bidId, bidderCode: v.code, cpm: e.price, width: e.w, height: e.h, creativeId: e.auid, currency: "USD", netRevenue: "gross" !== r, ttl: 360, dealId: e.dealid }, "video" === e.content_type ? (u.vastXml = e.adm, u.mediaType = c.d, u.adResponse = { content: u.vastXml }, p.renderer || p.mediaTypes && p.mediaTypes.video && "outstream" !== p.mediaTypes.video.context || (u.renderer = function (e, r) { var t = r.install({ id: e.id, url: e.url, loaded: !1 }); try { t.setRender(w); } catch (e) { m.logWarn("Prebid Error calling setRender on renderer", e); } return t; }({ id: p.bidId, url: "https://acdn.adnxs.com/video/outstream/ANOutstreamVideo.js" }, s))) : (u.ad = e.adm, u.mediaType = c.b), t.push(u), o.bids.length || o.parents.forEach(function (e) { var r = e.parent, t = e.key, s = e.uid, n = r[t].indexOf(o); -1 < n && r[t].splice(n, 1), r[t].length || (delete r[t], m.getKeys(r).length || delete d[s]); }))) : n = g + e.auid : n = l + JSON.stringify(e); } n && m.logError(n); }(function (e) { e ? e.bid ? e.bid[0] || m.logError(p) : m.logError(h + JSON.stringify(e)) : m.logError(u); return e && e.bid && e.bid[0]; }(e), i, a, d, s); }), n && m.logError(n), d; }, getUserSyncs: function getUserSyncs(e) { if (e.pixelEnabled) return [{ type: "image", url: "https://sofia.trustx.org/push_sync" }]; } }; function E(e) { var r; r = e.value, m.isArray(r) && 0 < r.length && "" === e.value[0] && delete e.value; } function w(e) { e.renderer.push(function () { window.ANOutstreamVideo.renderAd({ targetId: e.adUnitCode, adResponse: e.adResponse }); }); } Object(s.registerBidder)(v); } }, [763]); pbjs.processQueue(); }, {}]; window.modules["via.legacy"] = [function(require,module,exports){"use strict"; DS.service("via", function () { "use strict"; // remove `via` from url, to be used after amplitude logs it to prevent users from sharing such urls function removeFromLocation() { var url = new URL(location.href); url.searchParams.delete("via"); history.replaceState(null, "", url.toString()); } // and add `via` param to any outbound links function addViaToUrl(href, via) { if (!href || href.substr(0, 1) === "#") { return href; // don't add to jumps on the current page, e.g. "Skip to main content" } var url = new URL(href); var apexDomain = new URL(location.href).hostname.split(".").slice(-2).join("."); if (url.hostname.indexOf(apexDomain) === -1) { return href; // don't add it to external links } url.searchParams.set("via", via); return url.toString(); } // keys correspond to "page_types" in editable_components.yml var PREFIXES = { article: "article", homepage: "homepage", "vertical front": "section", "rubric front": "rubric" }; var pageType; function setPageType(amplitudePageType) { pageType = PREFIXES[amplitudePageType]; } var DELIMITER = "_"; function concatVia(node, via) { var tag = node.dataset && node.dataset.via; if (tag) { via = (via.length ? tag + DELIMITER : tag) + via; } return via; } function addToClickedLinks() { document.documentElement.addEventListener("click", function (e) { var a; var via = ""; // detect link nodes and collect via directives to append to the href var node = e.target; // the element where this event originated may have been removed from the dom, e.g. in the case of the OIL CMP which disappears after you interact with it while (node && node !== e.currentTarget) { if (node.tagName === "A") { a = node; } via = concatVia(node, via); node = node.parentNode; } if (a && via) { if (pageType) { via = pageType + DELIMITER + via; } a.href = addViaToUrl(a.href, via); } }); } function addToSubmittedForms() { document.documentElement.addEventListener("submit", function (e) { var form = e.target; // collect via directives var via = ""; var node = e.target; while (node !== e.currentTarget) { via = concatVia(node, via); node = node.parentNode; } if (via) { if (pageType) { via = pageType + DELIMITER + via; } // dynamically create a hidden input for the form url var input = document.createElement("input"); input.type = "hidden"; input.name = "via"; input.value = via; form.appendChild(input); } }); } // start listening only once, when first injected addToClickedLinks(); addToSubmittedForms(); return { setPageType: setPageType, removeFromLocation: removeFromLocation }; }); }, {}]; window.modules["visibility.legacy"] = [function(require,module,exports){"use strict"; DS.service("$visibility", ["$document"https://r.search.yahoo.com/,"$window"https://r.search.yahoo.com/,"_throttle"https://r.search.yahoo.com/,"Eventify", function ($document, $window, _throttle, Eventify) { var list = [], Visible, VisibleEvent; /** * @param {number} a * @param {number} b * @returns {*} * @see http://jsperf.com/math-min-vs-if-condition-vs/8 */ function min(a, b) { return a < b ? a : b; } /** * @param {number} a * @param {number} b * @returns {*} * @see http://jsperf.com/math-min-vs-if-condition-vs/8 */ function max(a, b) { return a > b ? a : b;
}
/**
* Fast loop through watched elements
*/
function onScroll() {
list.forEach(updateVisibility);
}
/**
* updates seen property
* @param {Visble} item
* @param {{}} evt
* @fires Visible#shown
* @fires Visible#hidden
*/
function updateSeen(item, evt) {
var px = evt.visiblePx,
percent = evt.visiblePercent; // if some pixels are visible and we're greater/equal to threshold
if (px && percent >= item.shownThreshold && !item.seen) {
item.seen = true;
setTimeout(function () {
item.trigger("shown", new VisibleEvent("shown", evt));
}, 15); // if no pixels or percent is less than threshold
} else if ((!px || percent < item.hiddenThreshold) && item.seen) { item.seen = false; setTimeout(function () { item.trigger("hidden", new VisibleEvent("hidden", evt)); }, 15); } } /** * sets preload property * @param {Visible} item * @param {{}} evt * @param {Number} innerHeight * @fires Visible#preload */ function updatePreload(item, evt, innerHeight) { if (!item.preload && item.preloadThreshhold && shouldBePreloaded(evt.target, evt.rect, item.preloadThreshhold, innerHeight)) { item.preload = true; setTimeout(function () { item.trigger("preload", new VisibleEvent("preload", evt)); }, 15); } } /** * Trigger events * @param {Visible} item */ function updateVisibility(item) { var rect = item.el.getBoundingClientRect(), innerHeight = $window.innerHeight || $document.documentElement.clientHeight, px = getVerticallyVisiblePixels(rect, innerHeight), percent = px / (rect.height || innerHeight), evt = { target: item.el, rect: rect, visiblePx: px, visiblePercent: percent }; updateSeen(item, evt); updatePreload(item, evt, innerHeight); } /** * Return normalized viewport height * @return {number} */ function getViewportHeight() { return $window.innerHeight || $document.documentElement.clientHeight || $document.body.clientHeight; } /** * Return normalized viewport width * @return {number} */ function getViewportWidth() { return $window.innerWidth || $document.documentElement.clientWidth || $document.body.clientWidth; } /** * make sure an element isn't hidden by styles or etc * @param {Element} el * @return {Boolean} */ function isElementNotHidden(el) { return el && el.offsetParent !== null && !el.getAttribute("hidden") && getComputedStyle(el).display !== "none" && getComputedStyle(el).visibility !== "hidden"; } /** * Apparently the fastest way... * @param {Element} el * @returns {boolean} * @example if (!$visibility.isElementInViewport(el)) { ... } */ function isElementInViewport(el) { var rect = el.getBoundingClientRect(); return rect.top >= 0 && rect.left >= 0 && rect.bottom <= ($window.innerHeight || $document.documentElement.clientHeight) && rect.right <= ($window.innerWidth || $document.documentElement.clientWidth); } /** * @param {Element} el * @param {ClientRect} rect * @param {Number} preloadThreshhold * @param {Number} innerHeight * @return {Boolean} */ function shouldBePreloaded(el, rect, preloadThreshhold, innerHeight) { return rect.top <= innerHeight + preloadThreshhold && isElementNotHidden(el); } /** * Create a one-dimensional spacial hash of x * @param {number} x * @param {number} stepSize * @param {number} optimalK * @param {number} base * @return {number} */ function getLinearSpacialHash(x, stepSize, optimalK, base) { var index = Math.floor(x / (stepSize || 1)), remainder = x % stepSize, result = index.toString(base); if (optimalK > 1) {
result += getLinearSpacialHash(remainder, Math.floor(stepSize / base), optimalK – 1, base);
}
return result;
}
/**
* @param {ClientRect} rect
* @param {number} innerHeight
* @returns {number}
*/
function getVerticallyVisiblePixels(rect, innerHeight) {
return min(innerHeight, max(rect.bottom, 0)) – min(max(rect.top, 0), innerHeight);
}
/**
* Get offset of element relative to entire page
*
* @param {Element} el
* @returns {{left: number, top: number}}
* @see http://jsperf.com/offset-vs-getboundingclientrect/7
*/
function getPageOffset(el) {
var offsetLeft = el.offsetLeft,
offsetTop = el.offsetTop;
while (el = el.offsetParent) {
offsetLeft += el.offsetLeft;
offsetTop += el.offsetTop;
}
return {
left: offsetLeft,
top: offsetTop
};
}
/**
* Create a new Visible class to observe when elements enter and leave the viewport
*
* Call destroy function to stop listening (this is until we have better support for watching for Node Removal)
* @param {Element} el
* @param {{shownThreshold: number, hiddenThreshold: number}} [options]
* @class
* @example this.visible = new $visibility.Visible(el);
*/
Visible = function Visible(el, options) {
options = options || {};
this.el = el;
this.seen = false;
this.preload = false;
this.preloadThreshhold = options && options.preloadThreshhold || 0;
this.shownThreshold = options && options.shownThreshold || 0;
this.hiddenThreshold = options && min(options.shownThreshold, options.hiddenThreshold) || 0;
list.push(this);
updateVisibility(this); // set immediately to visible or not
};
Visible.prototype = {
/**
* Stop triggering.
*/
destroy: function destroy() {
// remove from list
list.splice(list.indexOf(this), 1);
}
/**
* @name Visible#on
* @function
* @param {'shown'|'hidden'} e EventName
* @param {function} cb Callback
*/
/**
* @name Visible#trigger
* @function
* @param {'shown'|'hidden'} e
* @param {{}}
*/
};
Eventify.enable(Visible.prototype);
VisibleEvent = function VisibleEvent(type, options) {
var _this = this;
this.type = type;
Object.keys(options).forEach(function (key) {
_this[key] = options[key];
});
}; // listen for scroll events (throttled)
$document.addEventListener("scroll", _throttle(onScroll, 200)); // public
this.getPageOffset = getPageOffset;
this.getLinearSpacialHash = getLinearSpacialHash;
this.getVerticallyVisiblePixels = getVerticallyVisiblePixels;
this.getViewportHeight = getViewportHeight;
this.getViewportWidth = getViewportWidth;
this.isElementNotHidden = isElementNotHidden;
this.isElementInViewport = isElementInViewport;
this.Visible = Visible;
}]);
}, {}];
require=(function e(t,n,r){function s(o,u){if(!n[o]){if(!t[o]){var a=typeof require=="function"&&require;if(!u&&a)return a(o,!0);if(i)return i(o,!0);var f=new Error("Cannot find module '"+o+"'");throw f.code="MODULE_NOT_FOUND",f}var l=n[o]={exports:{}};t[o][0].call(l.exports,function(e){var n=t[o][1][e];return s(n?n:e)},l,l.exports,e,t,n,r)}return n[o].exports}var i=typeof require=="function"&&require;for(var o=0;o