When Mary Ann Owens turned 50, she hosted her own funeral.
She was very much alive. But she wanted to mourn the end of her first five decades. She hired a band to play a funeral dirge. Pallbearers carried an empty casket. She wore her daughter's old prom dress, a long silvery gown that gave her a ghost-like appearance. More than 80 of her friends and family paraded around Sublette Park in south St. Louis in their funeral attire.
Owens' mother, a very religious woman, refused to attend the "celebration."
"That's sacrilegious," she told her daughter.
"You're going to miss a really good time," Owens said. Her mom ended up attending to watch the spectacle.
"We had a blast," she recalls, of her unusual birthday party 13 years ago.
Her idea of a good time has always trended a little dark — although she doesn't see it that way. As a kid, she was fascinated by the supernatural and collected articles about the Loch Ness creature and Dracula. She was a "monster kid" who loved scary movies, sci-fi and classic and folklore monsters.
Naturally, Halloween was a big deal. Dressing up was exciting. She was drawn to those who embraced the creativity and imagination around the holiday.
As she became an adult, she threw epic Halloween parties. Last year is the first one she skipped because of the pandemic.
In many ways, Owens, 63, has been ahead of her time. Now, Halloween has become just as much an adult celebration as an opportunity for costumed kids to get free candy. The National Retail Federation predicts American consumers will spend an all-time high of $10 billion during the Halloween season. A growing chunk of that goes toward décor.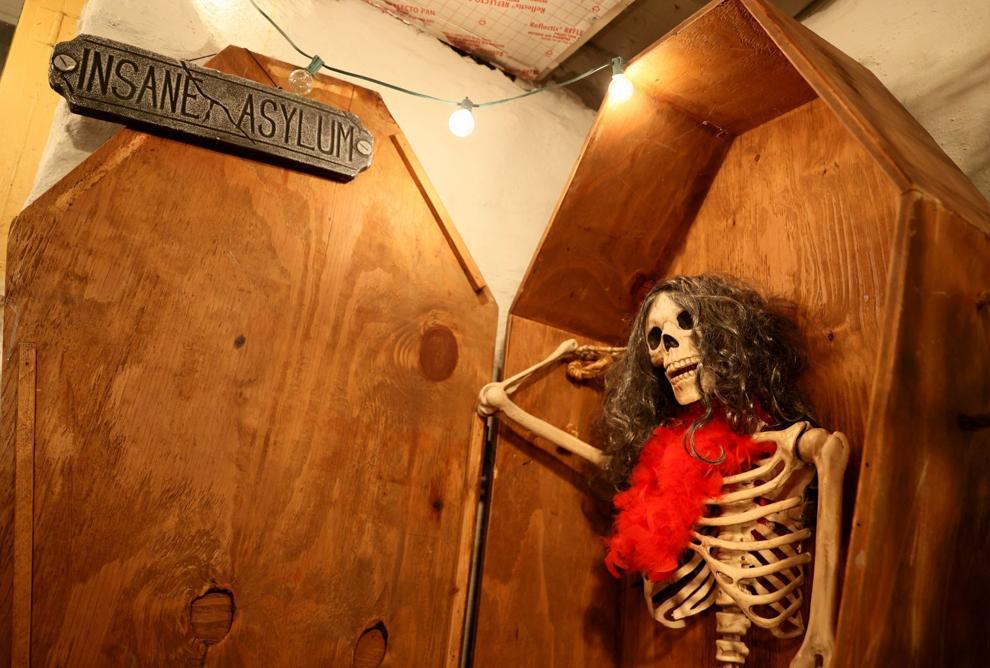 Spooky decorating is one of Owens' specialties. For her 40th birthday, a friend gave her a vintage Frankenstein blow mold, a figure made of hollow hard plastic, that lights up.
"I just kind of fell in love with him," she said. She was afraid he might get stolen if he stayed outside, so she moved him into the basement.
Her collection of scary stuff continued to grow. She bought original pieces from artists she befriended and hunted online for unique blow molds.
Two years before her funeral parade birthday, she turned her the basement in her Southwest Garden home into a self-described "haunted ratskeller." The decision was made soon after one of her elaborate Halloween parties when the decorations were still up around the house. Her young nephew suggested that instead of packing it all away, Halloween could become a permanent look for the basement.
"We used to call her our Scary Aunt Mary," Jeffrey Owens, now 24, remembers.
Owens loved the idea. The two spent a few days setting up the décor and moving around the furniture. (The coffin from her funeral parade eventually became a coffee table.)
"One part of me thought, 'This is awesome,'" Jeffrey Owens said. The other part may have been a little freaked out by "Scary Mary's dungeon."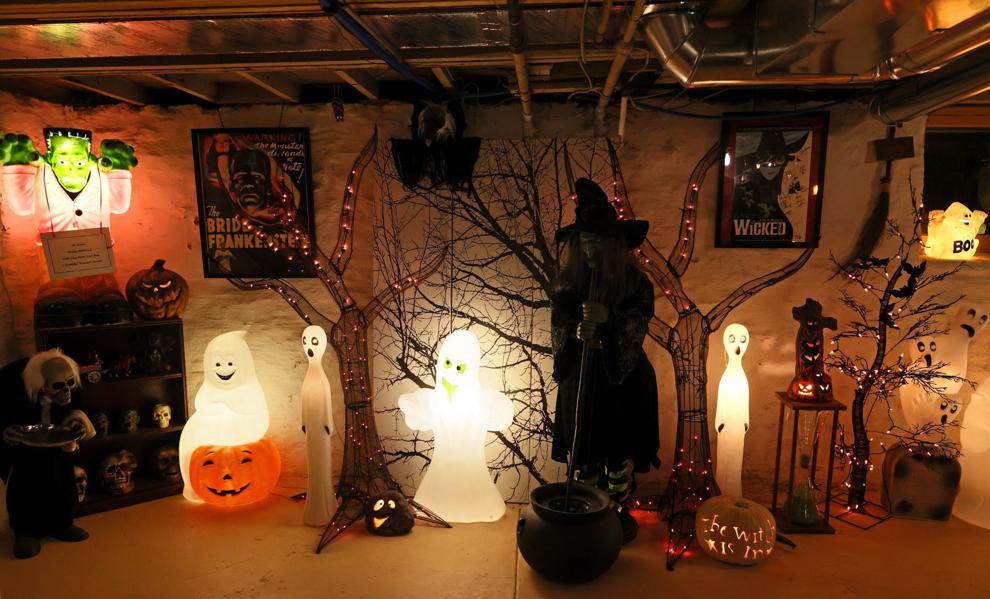 The Halloween spirit season haunts Owens' home year round. She has about 70 blow molds downstairs. One area is devoted to creepy clowns. A skeleton in a black wig and long white apron stands in a corner, while another hangs out in an open standing casket. One poses on a chair with a drink. A couple of menacing werewolves surround the sofa where a life-size zombie is perched.
The ratskeller is equal parts hair-raising, kitchy and artistic.
On the main level of her house, Owens displays her most prized and one-of-a-kind items, several of which pay homage to legendary horror actor Vincent Price, also a native St. Louisan. One Christmas, her daughter gave her "The Vincent Price Treasury of American Art." She had found it for $12 on eBay. When Owens opened it, she discovered a bookplate signed by Price himself. Over the years, she has even become friends with Price's daughter, Victoria, an author and speaker who manages her father's legacy. They met at one of the events Price attended in celebration of her father.
When Price visited Owens' home, she was impressed with how she incorporated her love for horror throughout the house.
"How my dad would have loved her aesthetic," she said. "It might not make sense to everybody, but it's how he saw things; he saw from his heart."
Owens' friends, Stephanie and Jeff Bergeron, of Barnhart get it, too.
Stephanie Bergeron describes herself as an "extreme decorator," who is also excessively passionate about Halloween.
"Our whole basement is monsters and stays up all year," she said. "We decorate the entire house at Halloween."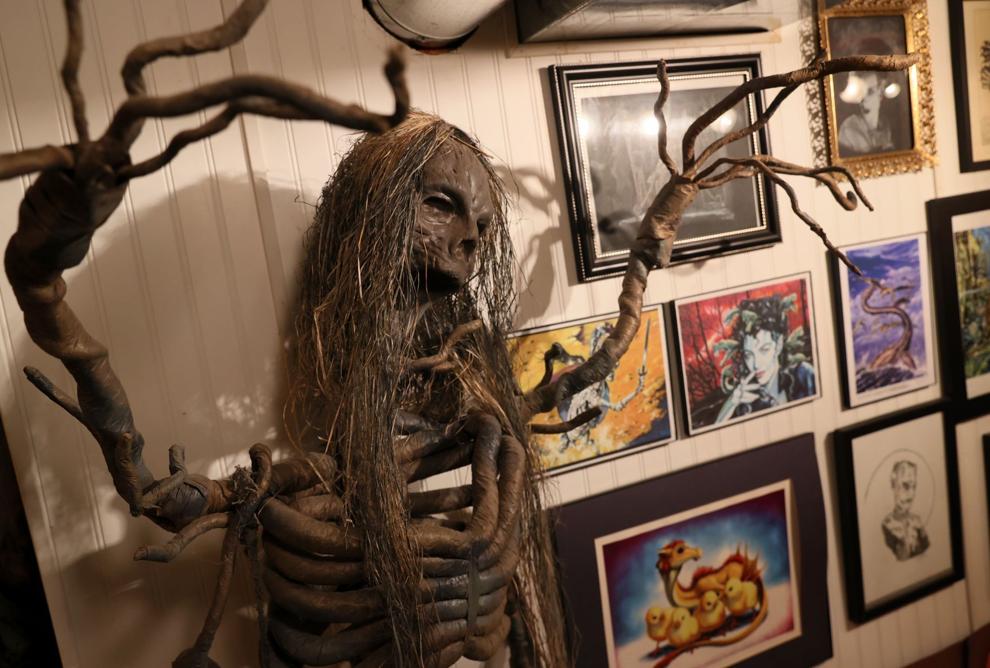 Her husband, Jeff, was a lead designer at Trendmasters, a toy company that was based out of St. Louis. When the store closed, the couple was able to bring a lot of the Halloween products he had helped design home. Stephanie also likes to hunt for rare pieces and alerts Owens when she spots something she might like.
"We enable one another with our collections," she laughed. The appeal of the holiday goes back to her childhood memories of awe and joy associated with it.
"People like us just hold onto that good feeling you had as a kid," she said. It's a chance for them to share that sense of wonderment with younger generations.
Sociologists who study Halloween's growing popularity and cultural influence say the celebrations give emerging adults a chance to explore identity in a socially rewarding and creative way.
Linus Owens (no relation), an associate professor of sociology at Middlebury College, writes that during Halloween, hard work and creative thinking matter. Costume contests, in bars or online, give people opportunities to construct costumes that meld humorous or timely cultural references with craft skills, he writes.
"You can do more than simply participate in Halloween; you can 'win it' with the best costume," he says.
That creativity is what delights and draws Mary Ann Owens to the genre. She lights up when she talks about the costumes her guests have created over the years. One year, she organized a zombie-themed pub crawl through her neighborhood. Nearly 50 people showed up in costume to party with her.
They laid down on her yard until her brother announced, "Rise, zombies!" He recorded them slowly getting up and staggering around. One of her guests put prosthetics over his eyes to make it appear as though he just had dark sockets — no eyeballs. A car driving by threw a bag of Snickers candy bars at the group as they headed toward the bars.
It was another Owens stunt and masterpiece.
But she knows there's a limit to how long she will be able to maintain the Halloween life. Every year it gets a little harder to unpack the extra 15 boxes she keeps of Halloween-specific decorations. She's running out of storage room for much more stuff. Her daughter said she plans to move in with her in about 10 years when Owens will be in her mid-70s.
"The first thing she said she's doing is remodeling the basement," Owens said. Her daughter, Jesse Wise, has told her to prepare a spreadsheet with her inventory of collectibles, so she can sell it online.
By then, it may be time for yet another farewell and rebirth.