Forza Horizon 5 is clearly aware of how visually magnificent it is, with the game taking every last opportunity to show off its pristine graphics. Newsweek recently had a chance to scrutinize this beautiful open world during a hands-on preview event and found that it more than lived up to all the hype.
Our taster session began with a sizzle reel that exuded pure confidence, displaying each of the 11 biomes that we would soon be traversing in the game's authentic depiction of Mexico. Here, we gazed in wonder at scorching deserts, idyllic beaches, lush jungles, historic cities, and dormant volcanoes, all ripe for exploring.
Before we had even hit the gas pedal, we were already off to an auspicious start as the level of granular detail in these environments was truly remarkable. Developer Playground Games has really outdone itself with the immaculate lighting effects, convincing scenery (rendered through state-of-the-art photogrammetry techniques), stunning draw-distances, and some of the best skyboxes we have ever seen in a video game.
At this point, it is worth mentioning that we previewed the Xbox Series X version of the racing sim. Specifically, we used the "Graphics Mode" that is explicitly dedicated to making the game look as good as it possibly can. As such, we benefitted from a max resolution of 3840 x 2160, alongside all the next-gen bells and whistles, like ray tracing and High Dynamic Range (HDR). There is an alternative "Performance Mode" setting you can choose, which sacrifices the ray tracing support for the sake of maintaining a consistent framerate of 60 FPS, but it is still gorgeous to behold.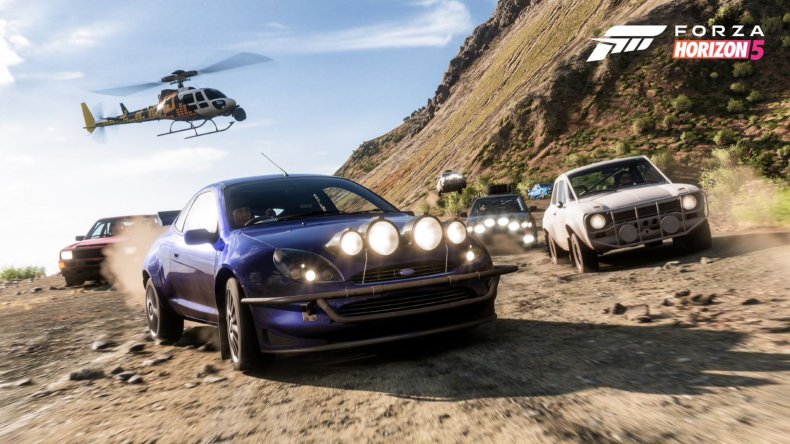 Volcanos, Dust Storms, Super Cars and Flamingos
It was not long until we got to do some actual driving, as the intro cinematic drew to a close and the game put us behind the wheel of a Ford Bronco SUV.
We were then dropped out of the back of a cargo plane onto the peak of a dormant volcano. Quite literally hitting the ground running, we found ourselves hurtling down the mountainous slopes at over 180 mph, barely having any time to register our unique surroundings. In fact, the igneous rock formations and boiling lava lakes were soon just indistinct blurs in our rear-view mirror as we rocketed towards flat terrain.
Just as the momentum was threatening to slow down, we were suddenly transported to another locale. Now in the driver's seat of a Chevrolet Corvette Stingray, we were zooming through an intense dust storm in the rural hinterlands of Mexico. It was a sequence that was presumably designed to show off how the game's dynamic weather effects might factor into gameplay and it was invigorating to say the least.
Again, we were only here for about a minute before the game transported us to yet another setting (the developers evidently wanted to cram as much in as they could with this first impression). Next up was a tropical rainforest, which we watched zip by in our periphery as we tore through the biome in a 1988 Porsche 911.
This was probably the best-looking environment of the bunch, given that the jungle was so densely populated. There was detailed foliage, near-photoreal water channels and even roaming wildlife, like stray dogs and a flamboyance of flamingos. These details all helped make it feel like a genuine place that we happened to be moving through, rather than just an artificial track designed purely for our enjoyment.
The final stretch of the high-octane intro put us in control of the latest Mercedes-AMG model, racing against the aforementioned cargo plane to get to the "Horizon Festival" hub. Much of it felt scripted (a theory that was later confirmed by replaying the sequence a few more times) but it was exhilarating nonetheless, especially when we skid under the fuselage of the rival aircraft.
All in all, this frenetic opening perfectly set the tone for the rest of our Forza Horizon 5 experience, by delivering plenty of white-knuckle stunts, relentless velocity and breath-taking locations. What followed was basically more of the same.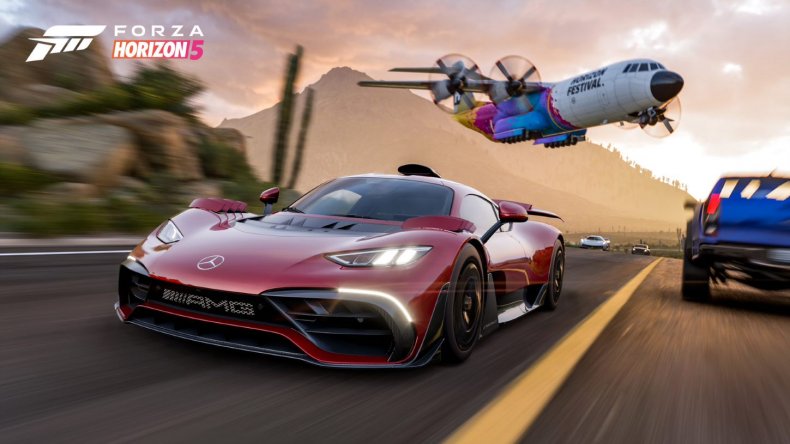 'Forza Horizon 5' Has Surprisingly Deep Customization Options
Things calmed a little after that, as we headed into the character creation menu to personalize our driver.
There were not too many options here in terms of body type or hairstyles, but it was pleasingly diverse in other areas. For example, we could equip prosthetic limbs and we were not locked into any restrictive binaries when it came to defining our gender. In terms of the latter, you are given the opportunity in Forza Horizon 5 to select your pronouns, meaning that your gender is refreshingly not tied to your face or voice (as it often is in other titles).
That same level of inclusivity carries over to the accessibility options, where there were various toggles and sliders to help players with things like color blindness, visual impairments and motion sickness. There is even a picture-in-picture mode that provides sign-language translation for those who are hard of hearing.
In addition to designing your avatar, you also get to name them from an exhaustive list of options. There is a staggering number for you to choose from (including some fun titles) and the other in-game characters will use these monikers when talking to you. Incidentally, you might want to avoid naming your driver after yourself, as it can be a little alarming when your TV starts directly addressing you as though it has developed sentience.
After we finished cobbling together our grisly abomination of a character (who thankfully remained obscured by car windshields for much of our preview), we then had to pick a starting ride. The initial choices were between the Ford Bronco, the Corvette Stingray and the Toyota GR Supra, but we could expand our garage later on by purchasing additional vehicles. Speaking of which, Playground Games has promised that there will be over 500 cars to unlock in the final build, resulting in Forza's biggest ever launch line-up.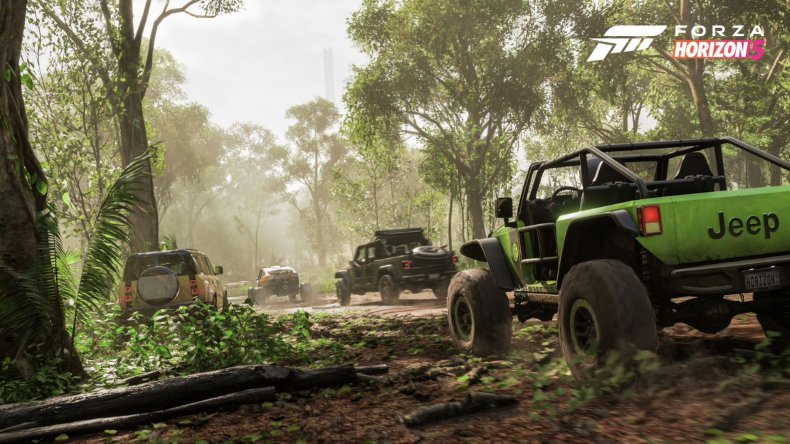 An Early Glimpse at the Story Mode of 'Forza Horizon 5'
The last aspect of customization is obviously that you get to personalize your license plate, which only really matters during online sessions where other people can read it (for the sake of full disclosure, our preview was limited exclusively to the offline mode).
Once that was taken care of, we were then able to experience some of Forza Horizon 5's story content. The first mission, entitled "On a Wing and a Prayer," was a thrilling race through the winding streets of a small Mexican village, in which we had to keep up with both a pair of motorcyclists and a jet.
While this showcase event was certainly a blast, subsequent replays made it apparent that most of the dynamic-feeling moments here (like a near-miss with an airborne bike and an excruciatingly close photo finish) were in fact scripted.
Following this, we then had a choice between two mutually exclusive activities. We could either venture into a sandstorm and search for hidden artifacts lost in the desert or help out with the restoration project for an old Volkswagen Beetle. In the end, we did manage to do both of these by rebooting the preview upon completion and starting again, but the treasure hunt was definitely the superior option.
One particular highlight of this assignment was that it encouraged you to play around with the new photo mode (as you must take pictures of the relics), which has plenty to offer enthusiastic shutterbugs. You are able to calibrate everything from the exposure time to the F-stop number, Bokeh shape, color temperature and contrast in order to capture your perfect image.
You will certainly want to get a lot of use out of this feature, especially when you consider how striking the vistas are in Forza Horizon 5.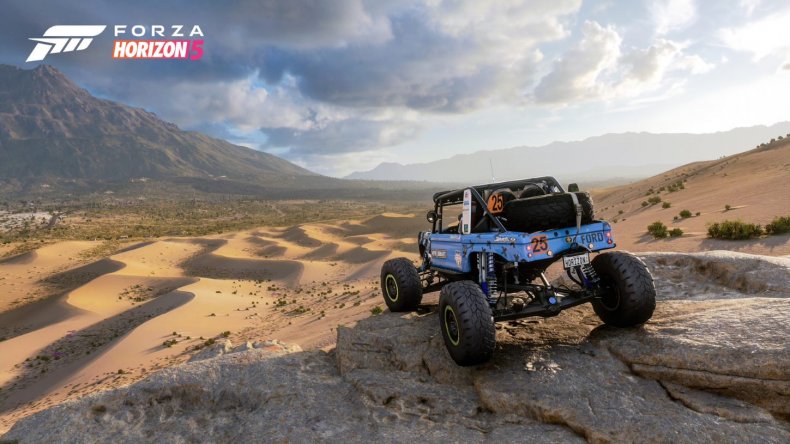 Exploring the Beautiful World of 'Forza Horizon 5'
On that note, after finishing the photography mission, we were left to our own devices and could explore the gorgeous landscapes at a more leisurely pace. While the world looks amazing as you speed by at 200 mph, it is impressive just how well it holds up to scrutiny when you are at a total standstill.
Microsoft Flight Simulator (another game that utilized photogrammetry to build authentic real-world environments) looks undeniably stellar while you are soaring above the clouds, but when you get nearer to the ground you do realize that the textures become quite ugly on a macro level. That's not the case here though, as you can see every needle in the cacti plants, all the minuscule imperfections in the rocky surfaces, and even the individual blades of grass in rural areas.
As such, it was a joy to simply coast around Forza's impeccable recreation of Mexico for a relaxing bit of sightseeing. Everything looks phenomenal and there is a real sense of variety to the diverse biomes here. One minute you could be exploring a disused airfield, the next you could be admiring temples reminiscent of Chichen Itza, or cruising through the city streets while appreciating the local architecture.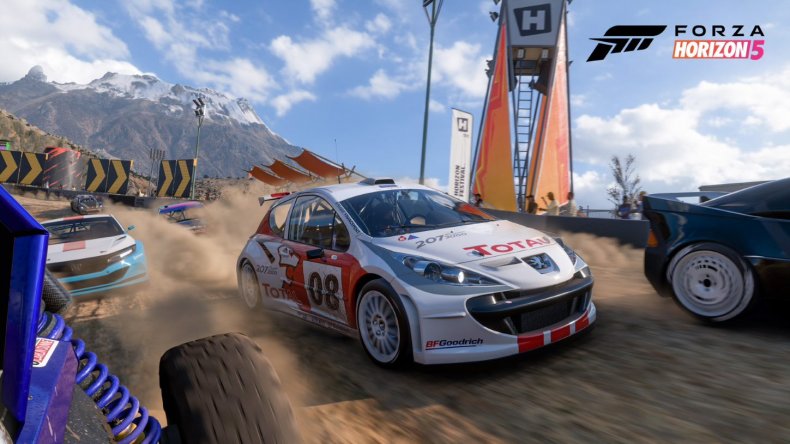 If you want a real close up view of the details, there is a pilotable drone that you can use to reach areas that are otherwise inaccessible by car. For instance, we went in to inspect the papel picado decorations adorning the various towns, only to discover a cute little easter egg in that they were all depicting vehicular iconography.
Of course, the open world is not merely for show, and you will be able to participate in a wide range of activities here. There are all the usual Forza staples, like circuit races, cross-country events, stunt jumps, and speed traps. Not to mention, you can challenge any random driver to an impromptu competition with just the press of a button. In short, there is plenty to see and do here.
Overall, Forza Horizon 5 is shaping up to be an exceedingly fun racing game, as well as an immersive tourism simulator, and an outstanding showcase for the Xbox Series X's technical prowess.
Forza Horizon 5 will be released on the Xbox One, Xbox Series S, Xbox Series X and PC on Friday, November 5. It will also be included as part of the Xbox Game Pass service.