The holiday season is here, and events are lighting up all over the city. From Santa sightings to plays and dances featuring classic characters, there are plenty of family-friendly activities to unwrap this year.
Here are some of our favorites:
Blossoms of Light
Now through Saturday, January 8
Denver Botanic Gardens, 1007 York Street
Get a timed ticket now to see one of the best light shows in Denver. Blossoms of Light has been gracing the Denver Botanic Gardens for over thirty years, and this year the show is as magical as ever. Expect trees illuminated in every color, floating snowflakes and the new O'Fallon Perennial Walk, a 200-foot-long, seventeen-foot-tall tunnel of animated lights. Stop at the Hive Garden Bistro midway for a hot cocoa or hot cider, then finish the dazzling journey. Bundle up if it's cold: The entire event is outside. Tickets are $16 to $19 for members, and $18 to $21 for non-members; those age two or under get in free. Dates and times vary; check the website for more details.
A Christmas Carol
Now through Sunday, December 26
The Wolf Theatre, Denver Performing Arts Complex
Charles Dickens's classic tale comes to life during this two-hour production presented by the Denver Center for the Performing Arts. It's a musical adaptation, which makes it even more exciting for children, especially those ages six and up. Tickets start at $35 and can be purchased online.   
Camp Christmas
Now through Sunday, January 2
Heritage Lakewood Belmar Park, 801 South Yarrow Street, Lakewood
Any Christmas fan must visit this six-acre holiday theme park — there's magic around every turn. Designer Lonnie Hanzon and the Denver Center for the Performing Arts have transformed Belmar Park from a living-history town into a historical holiday card. There are displays of ornaments through the ages, themed rooms to peek into, an array of "Pun Trees" to figure out with the help of a QR code, and more. Warm up with a hot buttered rum or gourmet hot cocoa, and if the kids are hungry, seek out the holiday-themed food truck or purchase a bundle of cookies. Tickets, starting at $8, are based on dates and times and can be purchased online; advance reservations are recommended. 
Cirque Dreams Holidaze
Mission: Save Christmas featuring Elf
Now through Sunday, January 2
Gaylord Rockies, 6700 North Gaylord Rockies Boulevard, Aurora
If you're looking for a complete winter wonderland, this massive hotel and event space is holding multiple family-friendly events. That includes Mission: Save Christmas featuring Elf, a multi-sensory immersive event filled with challenges and holiday activities based on the movie Elf. Tickets are $19.99 to $31.99. There's also the Cirque Dreams Holidaze show at 3 and 7 p.m. Wednesdays through Sundays, which offers holiday circus magic; tickets are $19. Other events include gingerbread house decorating, snow tubing, ice skating, and a visit with Mrs. Claus. Ticket prices for these and other Gaylord holiday events vary; visit the venue's website for details.
A Hudson Christmas
Now through Friday, December 31
Hudson Gardens, 6115 South Santa Fe Drive, Littleton
A stroll around this massive garden is all a family needs to light up the Christmas spirit. Besides the many, many lights everywhere, there are dancing Christmas trees that change colors to the beat of popular Christmas songs, a light tunnel, and tons of photo opportunities. It's impossible to miss the towering trees draped in colorful lights, but keep an eye out for another giant: a very huggable snowman. Timed tickets can be purchased online at $15 for adults, $12 for ages four to twelve, and free for those three and under.
The Nutcracker
Saturday, November 27, through Friday, December 24
Ellie Caulkins Opera House, Denver Performing Arts Complex
Enjoy this timeless tale of magic, mystery, toys and giant mice during the annual Colorado Ballet production of The Nutcracker, famously composed by Pyotr Tchaikovsky. Enjoy the story and dancing, all performed this year with a new set and new costumes. Tickets, $40 to $175, can be bought online. 
Grand Illumination
Friday, November 26, from 5 to 8 p.m.
Denver Union Station, 1701 Wynkoop Street
Join the Denver Dolls and Santa and Mrs. Claus as they ring in the season with a night of music, performance and lights — lots of dazzling lights. The forty-foot-tall Christmas tree is the real the star of the show, boasting more than 7,000 twinkling lights. If you miss this tree lighting, don't worry: The fun will continue with free outdoor light shows on Union Station's facade until December 27, from 5 to 10 p.m. each night.
Luminova Holidays
Friday, November 26, through Sunday, January 2
Elitch Gardens, 2000 Elitch Circle
Elitch Gardens is decking out its grounds with all things merry and bright. From 5 to 10 p.m. most days (check the calendar for dates), guests can wander outside and take in over three million lights, a 65-foot Christmas tree, a 25-foot snowman that never melts, and a candy cane tunnel stretching 200 feet. Expect to visit Old Saint Nick and the elves and ride a few of the cool-weather attractions. There are also games of light-up hopscotch, train rides and roaming carolers and performers. Purchase tickets in advance online (required) at the Elitch's website.
Holiday Magic at the Dairy Block
Saturday, November 27, and December 4, 11, 18 and 19
The Dairy Block, 1800 Wazee Street
Take the littles out for a lunch date at the Dairy Block and enjoy festive carols sung by the Jingle Belles. Each show runs from 1 to 3 p.m. Santa makes a debut from 12 to 3 p.m. on December 4, 11 and 18. Then on Sunday, December 19, pair your carols with The Nutcracker from 11 a.m. to 1 p.m., courtesy of Cherry Creek Dance. All performances are free to attend; holiday attire is optional but always encouraged.

December Delights
Friday, November 26, through Sunday, January 2, Wednesdays through Sundays
Four Mile Historic Park, 715 South Forest Street
This time of year, Four Mile Park turns into a winter wonderland where guests can go ice skating ($5), play reindeer games, go on scavenger hunts, do crafts and take in tons of decorations. It's exciting for the whole family! Visit the park from 5 to 9 p.m. Wednesdays, Thursdays and Sundays, and from 5 to 10 p.m. on Fridays and Saturdays. Tickets, $10 to $16, can be purchased online; kids six and under get in free.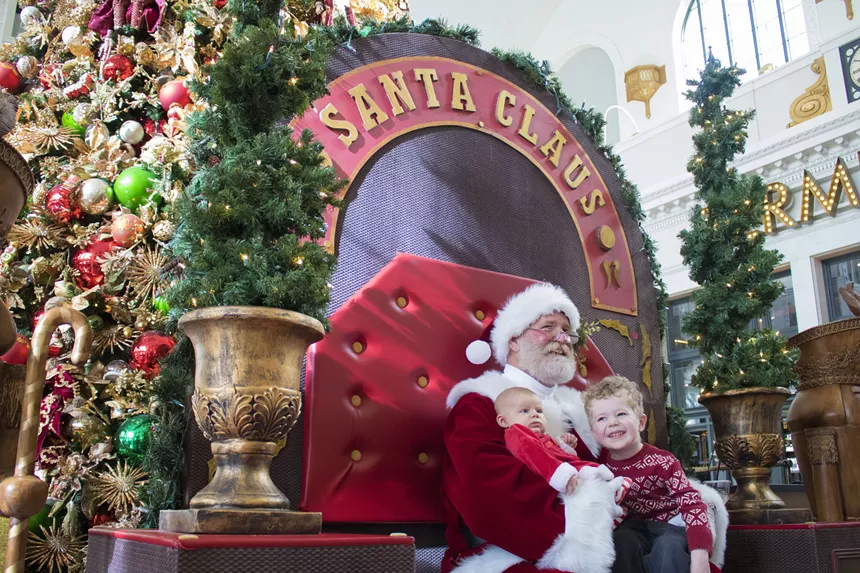 Santa at the Station
Sundays, November 28 through December 19
Union Station, 1701 Wynkoop Street
Take a Christmas card-perfect photo of your kids and Santa each Sunday at Union Station from 11 a.m. to 4 p.m. The photo session is free, but if you want to skip the line, you can pre-order a St. Nick Express ticket online for $50 and get a keepsake Denver Union Station ornament in the deal.
Winter Tales
Friday, December 3, through Sunday, December 19, various times
Factory Five Five, 10255 East 25th Avenue, Aurora
Make history by attending this community arts collective's first holiday production, Winter Tales. The interactive theater performance delves into four classic children's books, offering a diverse look at traditions and stories around the world. Purchase tickets for $8 in advance or $12 at the door. Bonus: Tattered Cover Kids at Stanley Marketplace has these books available for purchase and will host a reading on December 8 at 11 a.m.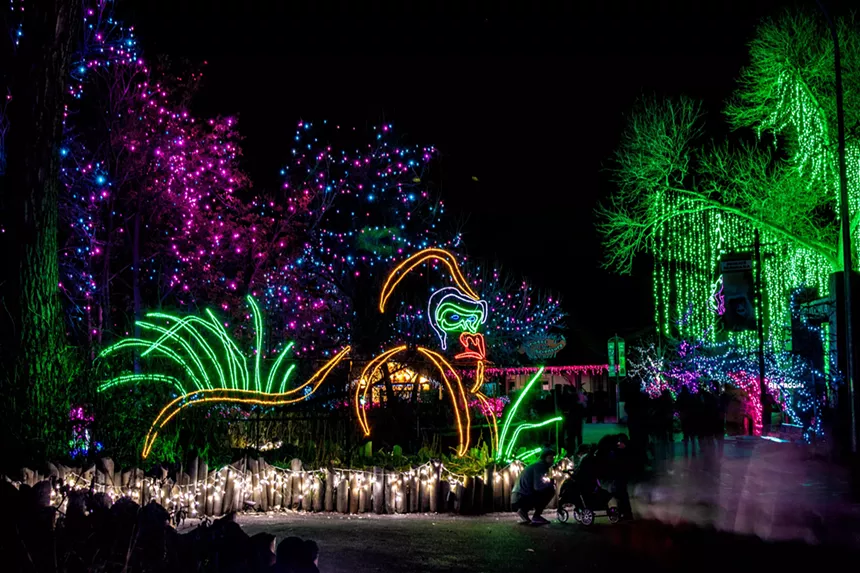 Zoo Lights
Saturday, December 4, through Sunday, January 2
Denver Zoo, 2300 Steele Street
Get wild at the zoo from 5 to 10 p.m. Friday and Saturday nights, and from 5 to 9 p.m. Sunday through Thursday. The grounds' two million LED lights illuminate trees, bushes, paths and more. Expect animated animal lights, light sculptures and overall merriment throughout the eighty-acre institution. And bundle up: The entire activity is outside. Purchase timed tickets, ranging from $15 to $25 a person, online; a special low-sensory night will take place on Friday, December 31.

Doll's Tea Party
Sunday, December 5, 11 a.m. and 2 p.m.
The Oxford Hotel, 1600 17th Street
Make this event the perfect holiday gift to your littles. For fifty years the Oxford Hotel has hosted the annual Doll's Tea Party, featuring delicate nibbles, tea and a ballet performance by the Arvada Center for the Arts and Humanities. This year's performance is The Dream Fairy and the Young Girl, about a fairy who magically brings a girl's dolls to life to dance with her until dawn. Proceeds benefit Children's Hospital Colorado, and guests can get discounted valet parking. There are two ninety-minute seatings, at 11 a.m. and 2 p.m. Tickets run $55 for those twelve and under, $75 for those thirteen and older. Reserve a seat online, and don't forget to bring a favorite doll or stuffy to the party.
Dickens: A Family Holiday Experience
Saturday, December 11, 4 to 8 p.m.
Four Mile Historic Park,  715 South Forest Street
For one day only, immerse your family in the world of Charles Dickens, the man who made Christmas. This special event runs from 4 to 8 p.m., and guests can choose their own adventure, all centered around Dickens's famous novel A Christmas Carol. Included are three theatrical performances, a holiday market, ice skating, carolers, storytime with Charles Dickens, Santa sightings and a bar complete with hot cocoa and holiday cocktails. Tickets can be purchased online at $25 for ages four to eleven, $50 for ages twelve and up; children three and under get in free.
Living Lights at the Butterfly Pavilion
Friday, December 17, through Sunday, January 2, 6 to 10 p.m.
6252 West 104th Avenue, Westminster
Who says bugs can't be festive? At the Westminster insectarium, guests can take in an indoor festival of lights with bio-fluorescent invertebrate animals, a magical firefly forest, aerial artists doing their best metamorphosis and a glow-in-the-dark dance party. The place will be buzzing with excitement! Tickets start at $12 for kids, $13 for seniors and $20 for adults; purchase yours online at butterflies.org.