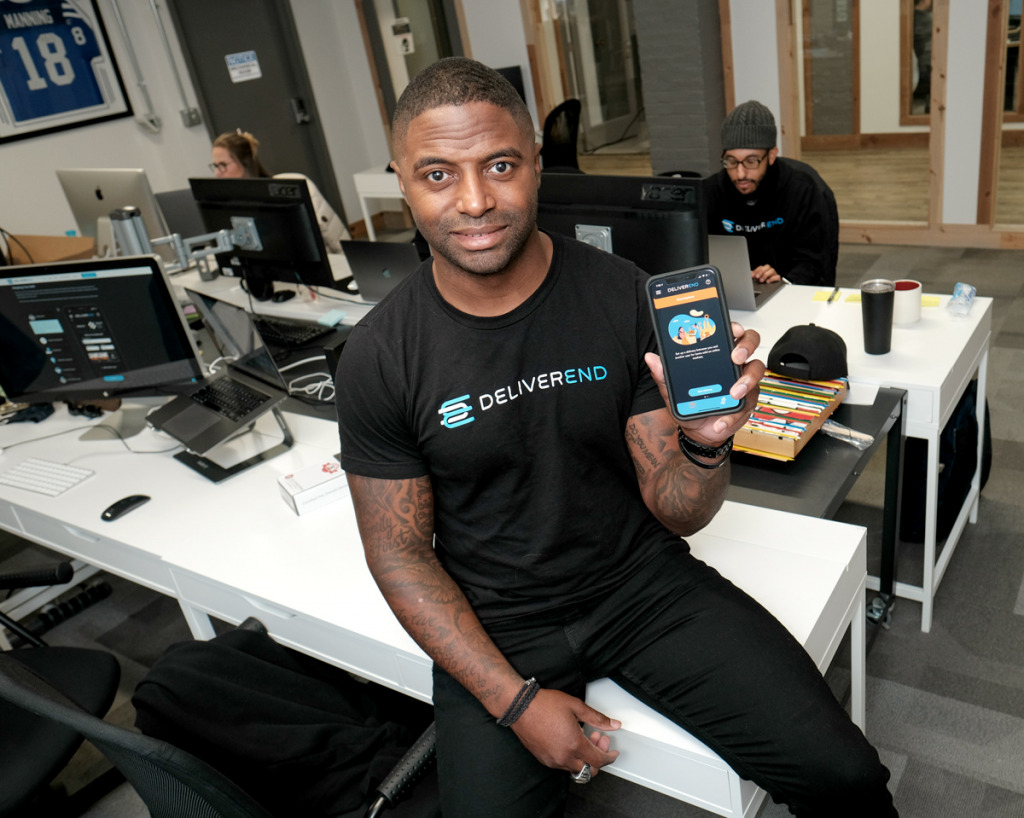 Nick Turner's app allows people using online marketplaces to buy and sell items without exchanging personal information. (IBJ photo/Eric Learned)
Nick Turner moves fast and thinks big. And always has.
The all-state Indiana high school football player and track star for Southport High School (and later a two-sport athlete at Indiana University) continues that mindset with the company, DeliverEnd, he founded in 2017.
DeliverEnd developed and markets an app designed to improve the safety, security and convenience of delivering items bought and sold on online marketplaces such as Facebook Marketplace and Craigslist.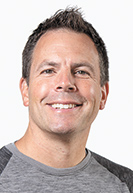 The concept made DeliverEnd a finalist for two 2019 Mira Awards, the state's oldest and biggest tech awards program: New Tech Startup of the Year and Rising Entrepreneur of the Year. And it's also caught the eye of major global online marketplaces that are interested in promotional partnerships.
"DeliverEnd's concept is very timely and it's right on point with respect to filling some of the gaps in the online-marketplace delivery process," said Mike Fitzgerald, partner with local venture studio High Alpha, who met Turner earlier this year.
While High Alpha is not a DeliverEnd investor, Fitzgerald said the 3-year-old company has a tremendous growth opportunity.
Already, it has 17 full-time employees and 10 full-time contractors working out of its headquarters at The Union 525 Building downtown. And DeliverEnd has more than 700 drivers under contract in the Indianapolis area alone. It operates in six markets. Turner, who has IU degrees in telecommunications and psychology, said the company will hire a handful more employees—in software development, design and sales—this month.
But he has a much bigger vision. Turner projects DeliverEnd will have more than 300 employees within three years. And that's not his ultimate finish line.
"We will be the first Black-owned unicorn when it comes to the gig economy," said the energetic 30-year-old. "One day, I want our company's name on a building downtown. And I think that's absolutely possible."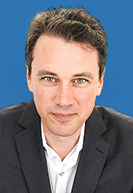 A unicorn is a term used in the venture capital industry to describe a privately held company with a value of more than $1 billion. The last local unicorn, business experts said, was ExactTarget, which went public in 2012 and was acquired by Salesforce in 2013 for $2.5 billion.
"I've heard people talking about the potential of DeliverEnd becoming an Indiana unicorn," said Thaddeus Rex, CEO and founder of The iTeam, a network of CEO think tanks. "I think the potential of this company is tremendous. I've seen great execution of the original vision, but also taking that vision and improving it and tweaking it."
Rex met Turner through a mutual acquaintance and now Turner is part of The iTeam network.
"Nick has been very good at listening to the market and responding quickly rather than focusing on just what he wants the company to be," Rex said.
Unique safety features

While the United States has a number of last-mile delivery services, Turner said, DeliverEnd's platform has several features that set it apart.
The app allows people using online marketplaces to buy and sell items without exchanging personal information. They know each other only through user names set up in the DeliverEnd app.
The app has a video function that allows buyers to inspect the product, DeliverEnd holds the money for the product in escrow until it's delivered, and the company has drivers on contract to make the delivery 24 hours a day, so buyer and seller never have to meet.
The buyer pays for the delivery within the app. DeliverEnd is working on a feature that will allow either party to pay for delivery or even share costs. The driver payment is based on delivery distance, size and weight of item, and whether it needs to go up or down stairs. The driver gets 70% of the delivery charge and 100% of the tip, Turner said.
"The delivery drivers are a critical part of this business, so we make sure they are well taken care of," he said.
DeliverEnd started its service in Indianapolis, but quickly expanded to Cincinnati, Columbus, Ohio, and parts of Michigan.
Turner has been in talks with several online marketplaces this year and is confident he will strike a deal to become an official partner with at least one by mid-2021. To facilitate a deal, he said, his company is preparing to expand into 20 major metro areas "pretty rapidly. We want to be in those 20 markets by March or April."
High Alpha's Fitzgerald expects considerable demand for DeliverEnd's services.
"There's no one else out there doing what we're doing," Turner said. "Other last-mile delivery services don't have escrow payments or video-chat vetting."
While DeliverEnd is primarily business-to-consumer-focused, Turner is eyeing more business-to-business transactions.
"I think there's tremendous potential in B-to-B applications of the platform they've developed," Rex said. "Their service really fills a gap in the delivery and supply-chain sectors. Unlike UPS and FedEx, DeliverEnd utilizes a decentralized distribution network. There's no central distribution center to get bogged down in."
Friend's robbery was spark
Turner, who previously worked at Royal United Mortgage and Amazon's local fulfillment center, came up with the DeliverEnd idea after a good friend was robbed while trying to sell his cell phone through an online marketplace.
Crime—including assault and murder—has become an increasing problem for people trying to buy and sell items on such marketplaces, even when meeting at neutral sites.
"I was touched by this personally," Turner said. "I looked for a solution, and I couldn't find one. So I built one."
Turner has raised $1.6 million in capital so far, and plans to start raising the next round in December. "We've been reached out to by some huge investment groups from the Bay Area, New York, Texas, and all around," Turner said.
Fitzgerald said DeliverEnd should have no problems raising the money it needs to grow. "I think Nick has done a good job of getting some good angel investors involved in the business who can help parlay what he's done to attract institutional investors," he said.
And an agreement with an operation like Facebook Marketplace "is something that will carry weight when he gets into those investor conversations," he said.
"What's most appealing about Nick is the authenticity he brings to this," Fitzgerald added. "He understands the delivery aspect, the recruitment of drivers and the need for safety and security for all involved."
Fitzgerald said Turner has stayed hands-on with the company, noting he paused their recent video call to personally deal with a delivery problem with one of his drivers.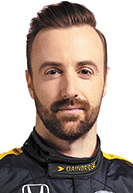 "He has the hustle, the hard-work ethic and an understanding of the business," Fitzgerald said. "Nick is a good fit for the company he's running, and for many investors, that's appealing."
DeliverEnd's investors include venture capitalists from Silicon Valley as well as some closer to home, Turner said, like IndyCar drivers James Hinchcliffe and Robert Wickens—along with Dallas Cowboys starting linebacker Jaylon Smith, a University of Notre Dame graduate.
"What I love about Nick is his motivation for starting this company," Hinchcliffe told IBJ. "This was a guy whose friend was robbed at gunpoint. This wasn't a guy sitting at home trying to figure out a way to make a million dollars. … Nick thought, 'There has to be a better way to handle the delivery of these items.' When there wasn't, he took action. That kind of mentality really appeals to me."
Clearing hurdles
Hinchcliffe met Turner through mutual friends and, in turn, introduced him to Wickens, who is rehabilitating from a serious 2018 racing crash.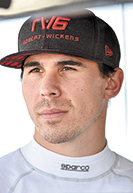 "Nick is a go-getter. He's a man who wants to get things done and he's not afraid to speak his mind," Wickens said. "He's very driven, motivated and won't back down despite any hurdles he might face."
Among the big hurdles Turner has to face is expanding his company's business operations at the same pace as sales grow, iTeam's Rex said.
"As you build sales traction, you have to have not only salespeople and customer service representatives, but you also have to have developers and driver capacity and all the back-end people," Rex said. "Everything has to be scaled at once, and that's a big challenge for a growing company. But these things can be solved."
Turner, the second-youngest of six children raised by a single mother, knows all about challenges.
For a time when he was in third grade, his family was homeless and forced to live in several churches a few weeks at a time.
Through it all, his mom, Gayle Turner, taught him and his siblings how to face and handle adversity.
"My mom instilled so many good habits in us—determination, grit, perseverance—and she gave us great support," Turner said. "She never showed signs of weakness, and she kept us all together. And she was the one who taught me to look after others. No matter how many times she got turned away for help, she never stopped caring about others."
That's still the case today, Turner said.
"My mom has brain cancer and thyroid cancer, and she's still more concerned about others than she is herself," he said. "You never forget that kind of role model. It impacts everything I do every day."
Turner also takes motivation from his late grandfather, Rev. Bennie A. Shobe Sr., who owned and operated several furniture stores—and loved cigars. His grandfather died two days after Turner placed fourth in the state in the 200-meter dash as a high school freshman—posting a state record for a freshman at that distance.
From his grandfather, Turner gained insights about running a business and saw firsthand the importance of customer service. One of Turner's first entrepreneurial efforts was making cell phone cases complete with a cigar cutter, flint-strip fire starter and matches.
"I wanted to build something in his name," Turner said. "He was a very special person."•