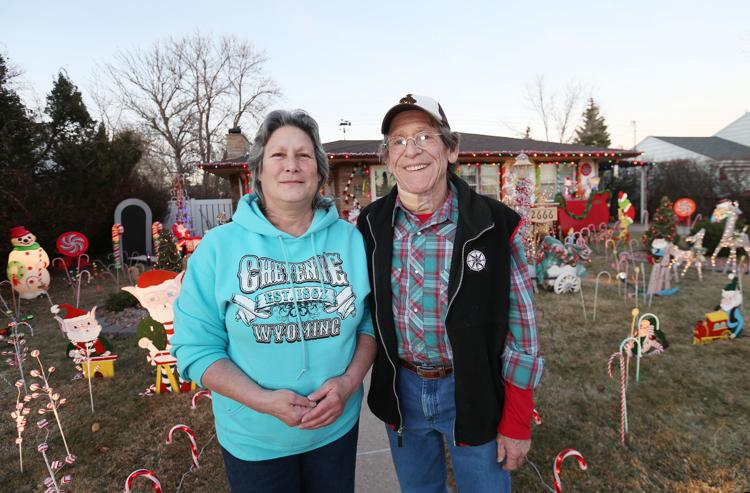 Throughout his life, James Gross has looked at things a little differently than most – like from the inside out.
"My mom and dad would cringe at Christmas every year because within two days I'd have every single present that was mechanical taken apart and put back together," Gross said. "I can fix just about anything … I was blessed with that."
As he got older, that ability led to a career as a carpenter and, later, a building manager for the state of Wyoming. But ever since retiring and buying his home at 2666 Deming Blvd. in 2011, Gross has utilized his gift for an annual Christmas decoration display.
Gross' wife, Mary Ellen, is the visionary behind the process. She looks for inspiration online and comes up with an idea of what she wants the display to look like – all the way down to how far items should be spread apart – and Gross does the handiwork.
He guesses about half of the display includes handmade items, while the other half are store bought, and the piece he's perhaps proudest of is the sleigh he spent all of summer 2017 building out of plywood. His wife had dreamed of having a sleigh in their front yard for the holidays ever since they got married, so when Gross said he finally wanted to make it happen, she sketched it out.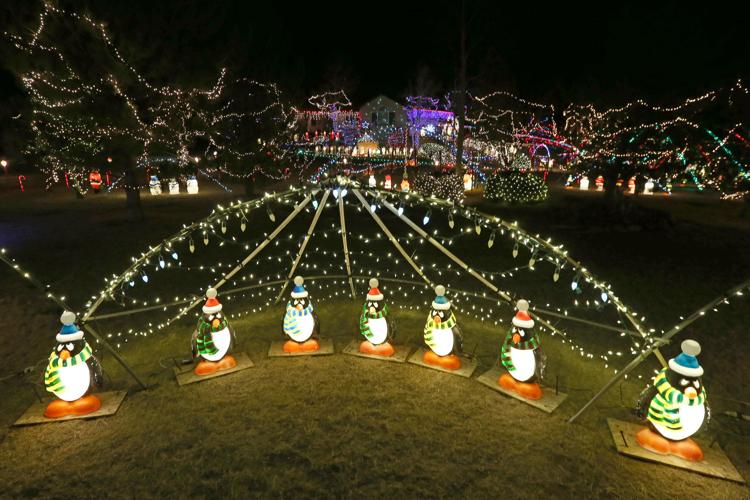 "My wife sat down and drew out exactly what she wanted," Gross said proudly through the phone. "If you look at it, the rails in the front are a swan, and you see the tail coming out in the back. … I told my wife if I'm going to build a full-size sleigh, I'm going to have fun with it."
The sleigh, which was built in 11 pieces that can be disassembled for storage in their garage, is strong enough to support two adults for the ideal photo opportunity, something Gross' stepdaughter and her husband are thinking of trying for their Christmas card. Santa's go-to vehicle also features six new figurines this year: Rudolph, Hermey and Charlie-In-The-Box from the 1964 TV movie "Rudolph the Red-Nosed Reindeer."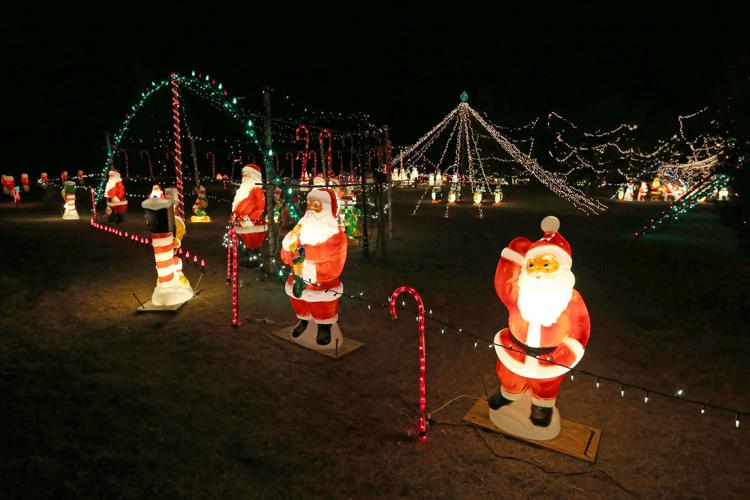 Also new this year, to go along with the home's gingerbread house theme, is a series of around 190 candy cane lights that flash in tune to any of the 20 holiday songs it's synched to. Gross said he's always wanted to jump on the light synchronization trend, but it wasn't until a couple months ago when he found one such music box for nearly half its usual price that he decided to go for it.
The Grosses also bought a bunch of styrofoam pool noodles and spent several evenings transforming them into four-foot candy canes. Due to a recent hospitalization, he hasn't put the cherry on top of the display, a teeter-totter featuring two jubilant elves, but Gross said he hopes to use the kit Mary Ellen gifted him to build it by Christmas.
As for where the pair gets their knack for scene design, Gross said it comes from their love of model trains. Ever since his dad started putting a model train under the Christmas tree in his childhood home in Maine, Gross was hooked.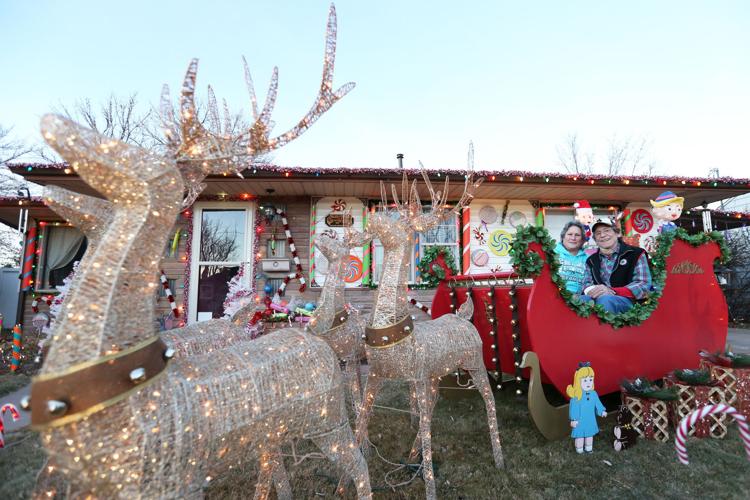 "My whole basement is like a museum – I've got two rooms, one is big-scale trains and another is HO scale, small trains," he said. "With the train collecting, I used to take classes in how to build dioramas and display, and I attribute a lot of my knowledge to that."
Gross started putting up the display right after taking down his Halloween one, which includes many items inherited from Mary Ellen's parents, the masterminds behind the former Hinsley House Halloween attraction. It was his in-laws' dedication to helping Cheyenne celebrate the holidays that initially inspired his own displays, but over time, they've become a fun passion project that bonds him to his wife.
"We spread it out, so it's not hard," he said, noting that they worked on it a little bit every day throughout November. "I love working with my wife doing things, and this is one of the things we do together that we really enjoy. We do well together in a lot of things."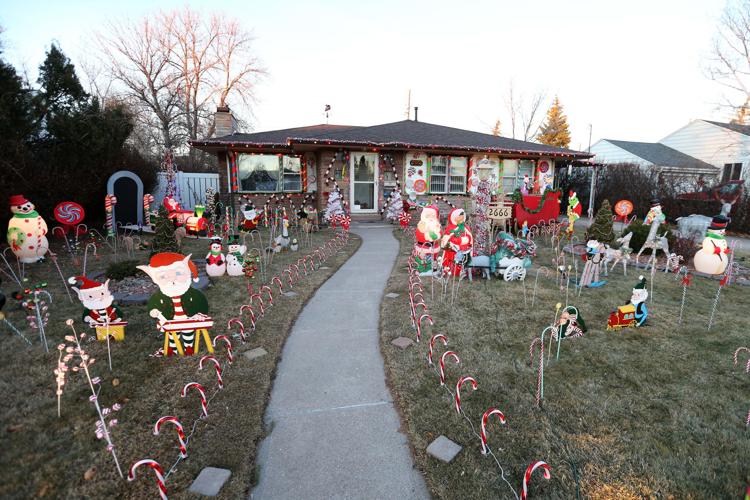 The holiday season is also particularly special to the lovebirds because they were wed on Dec. 4, and Gross' birthday is Dec. 2.
This year, he recognizes that the holiday season will look a lot different, but he hopes people take some time to drive by and enjoy the display however they're most comfortable. The general rule of scene building, he said, is to have something that captures the eye no matter where people look, and Gross worked even harder to achieve that this year.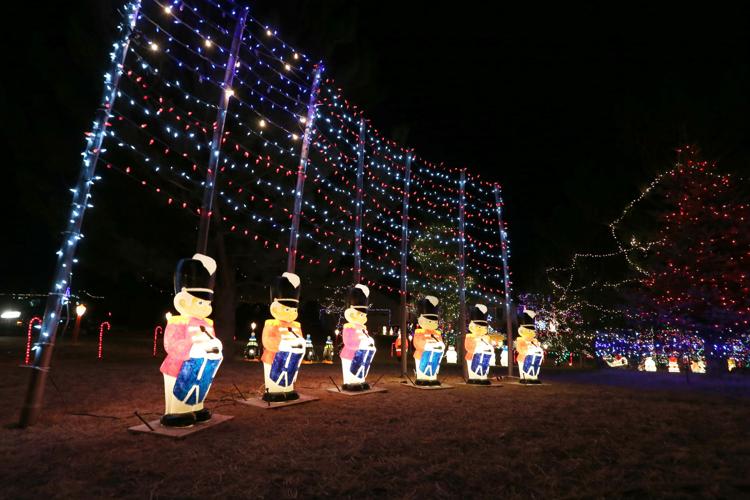 "With all the COVID and everything going on right now, you don't have to worry about this," he said. "We decided to make our display nice and big so you don't have to get out of the car. We wanted to help people get happy. It's my absolute favorite time of year."