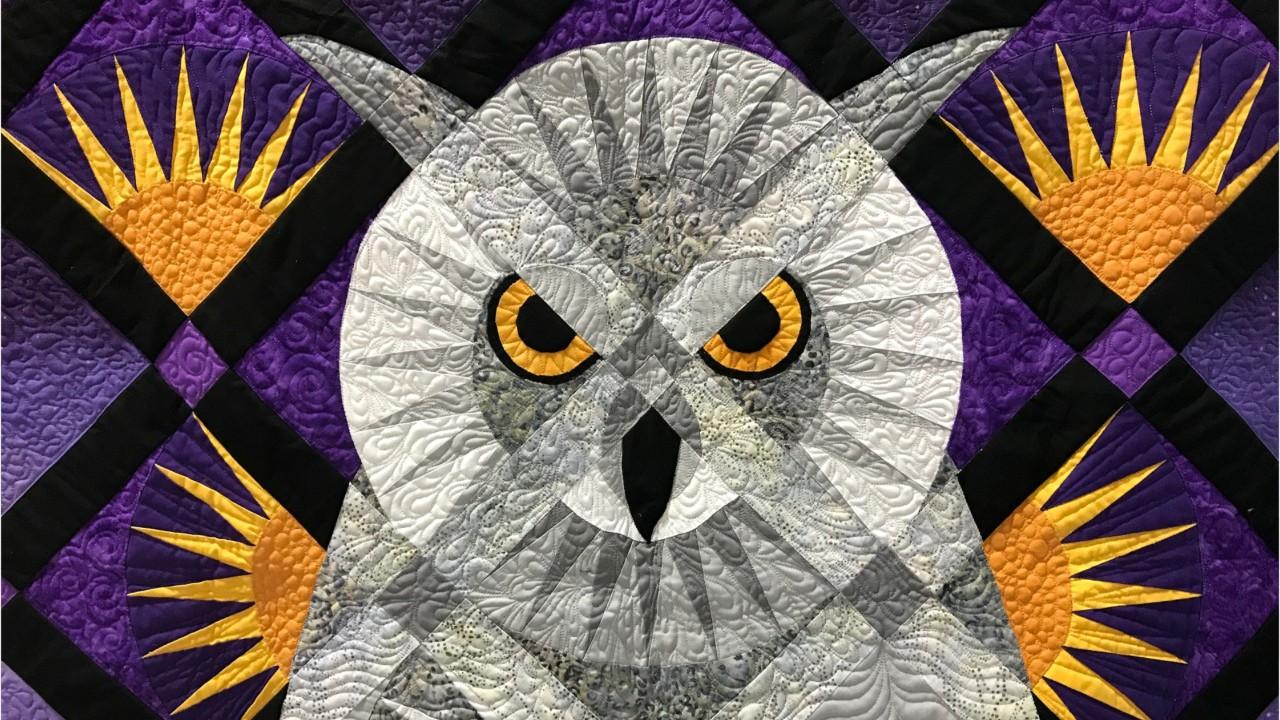 Incredible creations from the Sun Country Quilters Guild
The Sun Country Quilters Guild presented its Heart of the Home show April 6-7, 2019, at the Tehama District Fair grounds in Red Bluff.
Mike Chapman, Wochit
Sun Country Quilters Guild quilting club hosts "Today's Inspirations Tomorrow's Treasures," a quilting show from 10 a.m. to 5 p.m. Saturday and 10 a.m. to 3 p.m. Sunday at Red Bluff High School in the Spartan Gym, 1260 Union St. in Red Bluff.
The exhibit includes more than 200 quilts in a variety of classic and contemporary designs. 
Featured guests will be Red Bluff quilt artists Patricia Christ and Rosemary Lavrador. The event also includes raffles for themed baskets, door prizes, a boutique shop selling crafts, community service displays, vendor booths and plenty of quilting displays and demonstrations.
Admission is $8 for both days. Buy tickets at the door; cash credit cards and debit cards are accepted.
For more information call 539-243-2403.more information go to www.suncountryquilters.com or call 916-425-8230.
— Jessica Skropanic
SCAC opens holiday gift boutique
Tuesday, Nov. 9
The Shasta County Arts Council will opens its annual holiday gift boutique at Old City Hall Gallery on Nov. 19.
"Season's Best — A Holiday Arts Show & Gift Boutique" features tables and walls filled with work by North State artists in different fields of the arts and using different media.
Items on sale include jewelry, wearable textiles, home décor, books of prose and poetry, art books, original music albums, body care, stationary, paintings and photographs, glass sculptures and other items.
Artists selling items must be SCAC members and must deliver work between 10 a.m. and 4 p.m. Tuesday.
The boutique is open from noon to 5 p.m. Tuesdays through Fridays, 10 a.m. to 3 p.m. Saturdays, from Nov. 19 to Dec. 23. The gallery is closed Nov. 23-27 for the Thanksgiving holiday.
For more information call 530-241-7320.
— Jessica Skropanic
Clarinet concert comes to Pilgrim
Tuesday, Nov. 9
Performing Arts Society of Redding concert "Klarinette Karaoke" is from 7:30 p.m. to 9:30 p.m. Friday at Pilgrim Congregational Church, 2850 Foothill Blvd. in Redding.
Guest artist is clarinetist Bruce Belton. He will perform live to a program of chamber music for clarinet, bass clarinet and strings in various combinations of duos, quartets, quintets and an octet with other artists recorded. Included are works by Michael Torke, Belinda Gehlert and Marc Mellits — three works commissioned by Belton.
Admission is free. Donations are accepted. 
For more information call 530-691-1920 or email [email protected].
— Jessica Skropanic
Two Redding churches will host holiday bazaars this weekend
Tuesday, Nov. 9
United Methodist Women host their 2021 Holiday Bazaar from 8:30 a.m. to 2 p.m. Friday and Saturday at the church, 1825 South St. in Redding.
Items for sale include holiday gifts, preserves and produce, quilts, jewelry, garden items, antiques and collectables. For more information call 539-243-2403.
First Christian Church's Holiday Boutique 2021 is from 8 a.m. to 3 p.m. on Saturday at the church, 3590 Placer St. in Redding. For sale are homemade crafts, baked goods, jams and jellies, gift ideas and holiday decorations. 
Admission to both events is free. Masks are required. 
— Jessica Skropanic
Cascade Theatre to no longer require proof of vaccine
Thursday, Nov. 4
The Cascade Theatre will no longer require patrons to show proof they've been vaccinated against COVID-19 or evidence of a negative test.
The downtown Redding theater had required either one since the start of its 2021-22 season in early September.
"As the incidence of COVID-19 continues to decline in Shasta County and following guidance from the California Department of Public Health (CDPH), the historic Cascade Theatre … today announces that it will no longer require that patrons provide proof of vaccination against the COVID-19 virus or proof of a recent negative COVID-19 test for attendance at its indoor events. The new policy change covers all artists, staff, ushers, and volunteers," theater officials posted on Facebook.
But patrons will still be required to wear masks unless they are eating or drinking at the concession stand or in their seats.
"Patrons should not attend events at the theater if they are feeling ill; Cascade Security staff will conduct contactless temperature checks before admitting patrons to theater events," official said.
The theater will reevaluate its vaccine and masking policy each month as conditions and medical guidance evolve, officials said.
— David Benda
Bank hosts Salvation Army food drive
Thursday Nov. 4
Tri Counties Bank branches are accepting food donations for the bank's 15th annual "Tis the Season" food drive for the Salvation Army.
The goal is to collect more than 100,000 pounds of non-perishable food items — now through Dec. 24 — at branches throughout the North State, according to the Salvation Army. Donations help families put food on the table during the holidays.
Donors can drop off non-perishable or canned food donations at branches including those in Redding, Shasta Lake, Anderson, Palo Cedro, Cottonwood, Burney and Fall River Mills.
Visit the drive's web page for a list of most-needed foods, including peanut butter, canned chicken and tuna, soups, canned vegetables, canned refried bans, oatmeal, coffee, tea, whole grain pasta, rice, cooking oil and cereal.
For more information or to make a monetary donation go to https://bit.ly/3H29EvZ. To find a branch location go to www.tcbk.com/locations.
— Jessica Skropanic
AAUW Home Tour celebrates 50th year in North State
Wednesday Nov. 3
The American Association of University Women's Redding branch hosts its 50th Redding Home Tour and Art Show from 10 a.m. to 3:30 p.m. on Saturday. 
This year's tour includes three private North State homes, the Behrens-Eaton House Museum — a Victorian home built by John Scott in 1895, three artists' wood shops and the North Valley Art League's Carter House Gallery. 
Tickets are $20 and are available at businesses including Holiday Market stores in Redding and Palo Cedro, Dandelion, Enjoy the Store, Marshall's Florist, Plaza Interiors and Maxwell's Insurance and Financial. You can also buy tickets online or get more information online at www.aauwredding.org. 
— Jessica Skropanic
Symphony to perform Mahler concert
Wednesday Nov. 3
The North State Symphony presents its November concert "A Little Mahler" at 2 p.m. Sunday at the Cascade Theatre in Redding. 
The concert features principal flautist Tim Koop and principal harpist Candace LiVolsi Valentine performing Mozart's "Concerto for Flute and Harp," and the "Titan" Symphony of Gustav Mahler. The program begins with Jessie Montgomery's "Banner," a work commissioned in 2014 to celebrate the 200th anniversary of the Star Spangled Banner.
Tickets cost $44 to $55. Go to https://bit.ly/3mx7iwO or buy at the Cascade box office at 1733 Market St. in Redding.
— Jessica Skropanic
Jessica Skropanic is a features reporter for the Record Searchlight/USA Today Network. She covers science, arts, social issues and entertainment stories. Follow her on Twitter @RS_JSkropanic and on Facebook. Join Jessica in the Get Out! Nor Cal recreation Facebook group. To support and sustain this work, please subscribe today. Thank you.