If You Go
View an interactive map to find the 25 participating public and private entities that are displaying altars in New Mexico, visit rutadealtares.online.
The memories and spirits of loved ones lost have been on the minds for Rita Cash and Kenny Gerrard during the past week, as they've poured their hearts and creative energies into a deeply personal project that will soon be presented to the public.
With photos, mementos, flowers and decorations, the longtime Santa Fe residents have been fashioning an ofrenda, or altar, meant to commemorate deceased family members and friends, in celebration of Día de los Muertos on Monday.
It's their first time creating an ofrenda, one of 20 that will be displayed at El Museo Cultural de Santa Fe in the Santa Fe Railyard. They said collecting photos and reminiscing about their loved ones while designing their altar has brought healing following recent losses.
A nephew of Cash's died about two months ago and she was unable to travel to attend his memorial in Los Angeles due to coronavirus concerns, while Gerrard had a brother and a nephew die in quick succession last year.
The altar, they said, has given them a positive outlet to remember their relatives.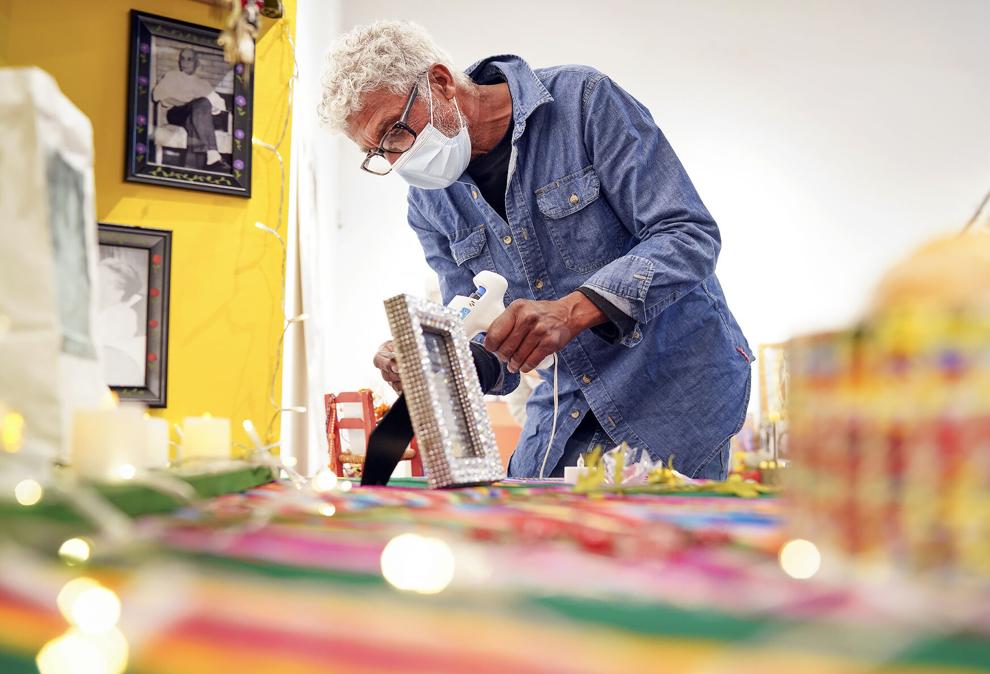 "This is my first time doing anything like this," Gerrard said of creating an ofrenda. "It helps. It's very therapeutic."
"There's a sense of loss, but it makes you understand how important family is and you realize how much love you have for them," Cash added. "I think that's the beauty of the celebration. It is about love and how much we all have in common and how much we all can learn from each other."
El Museo is one of five public and private entities in Santa Fe and 25 locations across the state taking part in a cultural initiative called the Ruta de Altares, or Altars Route. Organized by the Mexican Consulate in Albuquerque, the initiative is intended to promote the cultural heritage of Mexico through the display of community-created ofrendas.
The Southside Branch Library, the Museum of International Folk Art, Sazón and Fiesta Oaxaca are also taking part in the altar route. The altars go on display Friday and are available for public viewing through Nov. 10.
At El Museo, altars were built by people of many cultures, backgrounds and beliefs.
While the consulate has requested all altars along the route include certain traditional elements such as candles, food, water and photographs, the creators designs' vary widely.
Some include original paintings and sculptures. Others feature poems or writings. And a few contain cooking utensils matriarchs once used to make traditional family meals.
Maria Martinez, the museum's executive director, said there's a mutual respect for all views and visions when entering the space.
"It is a core place of no denial where we all might meet, and even in a vulnerability, we're safe in that moment," she said.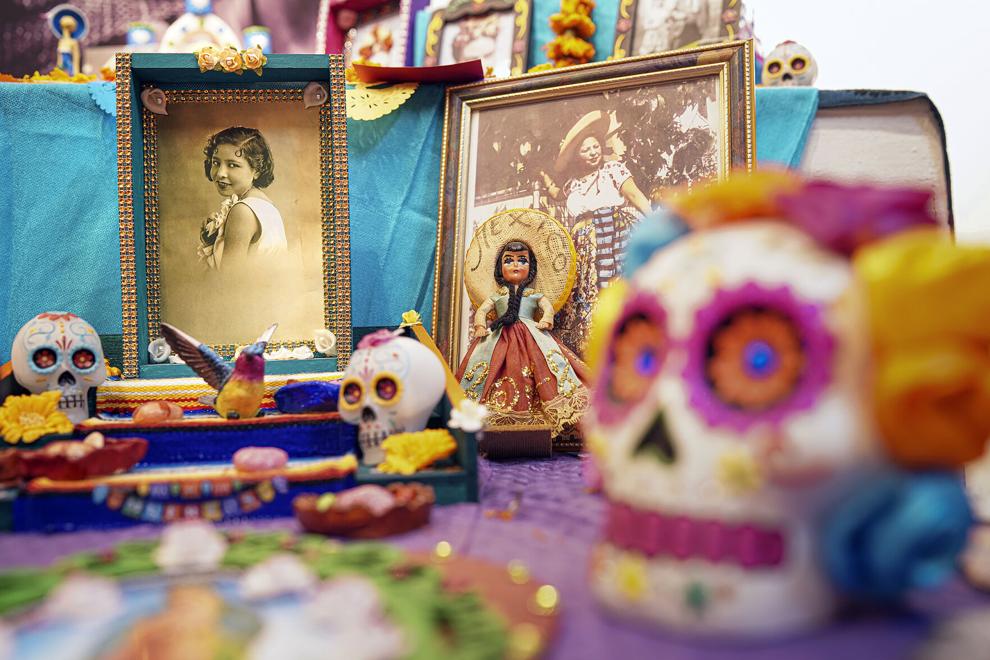 Eric Mejia was brimming with enthusiasm Wednesday as he entered El Museo and saw the progress made on the 20 altars inside.
His great-grandmother came to the United States from Mexico, but he said she wanted to assimilate into American culture and left many traditional Mexican celebrations behind. He was raised in the Los Angeles area and said his family never really took part in Día de los Muertos traditions.
Elsa Annette Mejia, Eric Mejia's wife, was the opposite. She remembers her mother making altars every year while she was growing up.
As the youngest daughter in her family, she said, it's Mexican custom that she serves as keeper of her family's history and traditions.
The couple, who moved to Santa Fe in October 2020, have been working on their own altar for two weeks.
While Elsa, who sells her art each weekend at El Museo's market, is doing most of the work, Eric has been enthralled by the process.
"For me, it's really cool to see," he said. "A lot of her traditions, over the years through her family, have now become my traditions since we've been married. Now that we're doing it together, it's like, 'Wow, I want to start new traditions.' "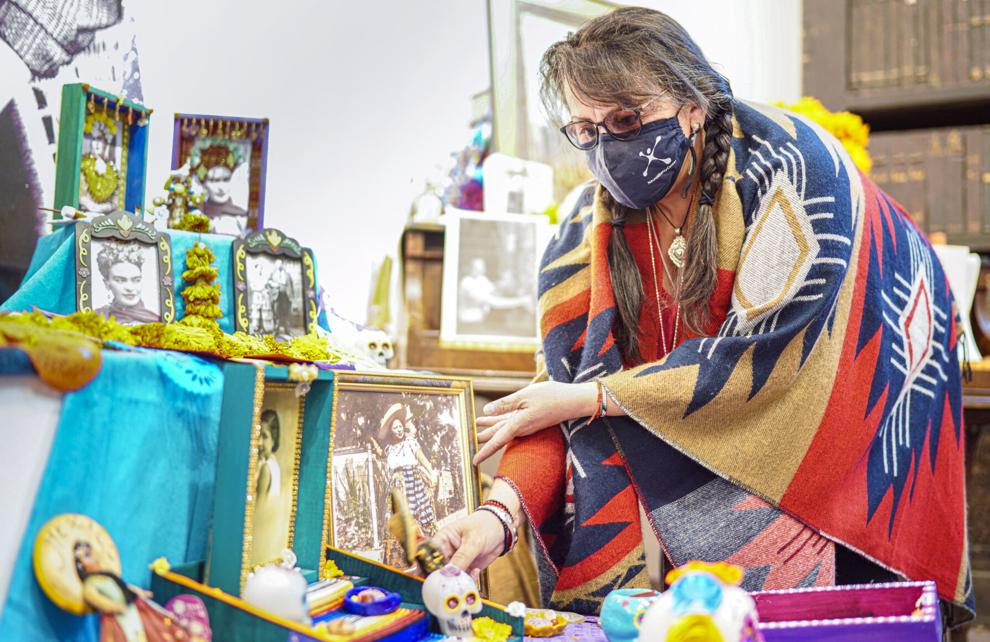 El Museo will be open from 1 to 5 p.m. daily through Nov. 10 for the public to view the altars. At 2 p.m. Saturday, Aztec dance group Danza Tonantzin de Analco will bless the altars and perform a circle dance.
Occupancy for viewing the altars will be limited to 10 people at a time due to COVID-19 safety protocols, Martinez said.
At the Southside Branch Library, a community altar has been established where residents are welcome to leave photos, writings and mementos in remembrance of deceased loved ones.
The Alas de Agua Art Collective will host altar workshops at the library from 4 to 5 p.m. Friday and 11 a.m. to noon Saturday for those who wish to create their own altars to bring home. Danza Tonantzin de Analco will also have a traditional altar blessing at 5:30 p.m. Monday.
The Museum of International Folk Art, meanwhile, will have a Day of the Dead community celebration from 1 to 4 p.m. Sunday.
Patrons will be able to make sugar skulls, eat traditional treats including pan de muertos, and view the ofrendas displayed at the museum. Admission is free for all ages.
Those who have created ofrendas for the Ruta de Altars said it has been an enriching experience. They encourage people of all backgrounds to see the altars and feel the moving presence within the spaces they occupy.
"Your heart is full when you walk in here. It's just glorious," Cash said. "It's really something that I think everyone should come out and see.
"If they haven't seen it before, they should take part in it and walk through and they will get something out of it."